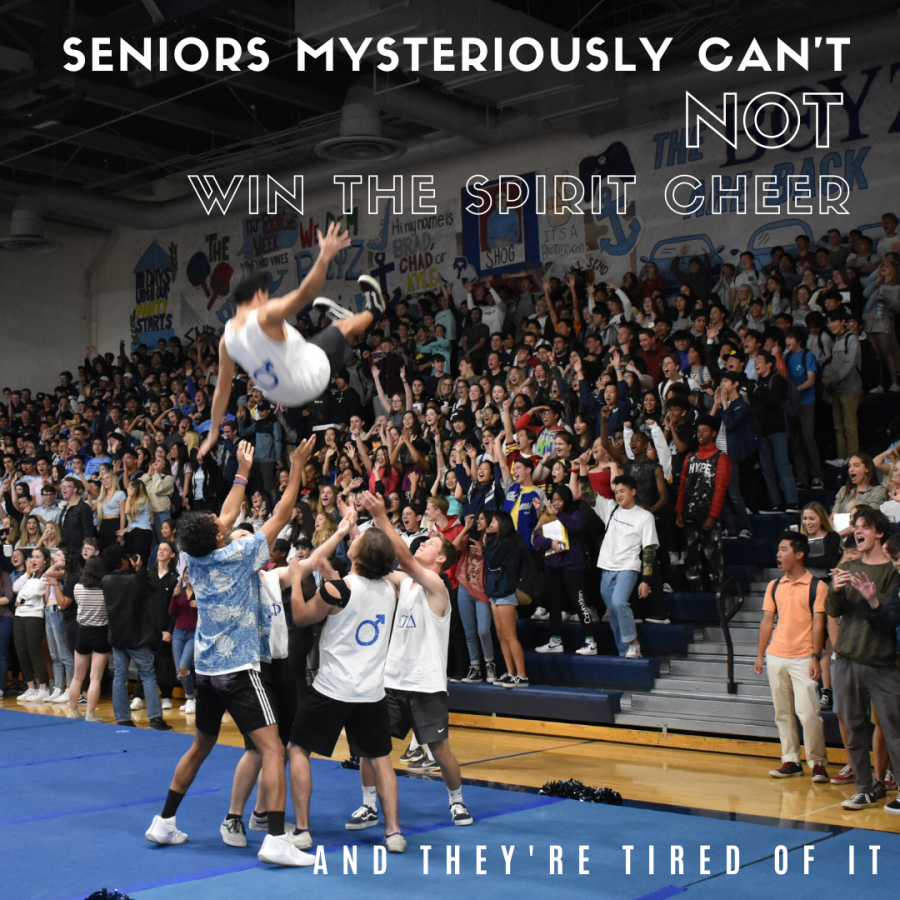 Seniors Mysteriously Can't Not Win the Spirit Cheer at Rallies
At West Ranch school rallies, it is expected that the senior class will always win the spirit cheer. It is no mystery that the freshmen, sophomores and juniors are confused by this seniors-win-all system.   
  However,  it may come as a surprise to the lowerclassmen that the seniors are also exhausted and bored of winning at rallies — but they just can't seem to lose. 
   Senior Annie Brown eagerly voiced her concerns regarding this prevalent topic among her class: 
   "I'm honestly absolutely exasperated at always winning," said Brown. 
   Throughout the school year, the senior class has taken drastic measures to ensure that they would not win the spirit cheer.
   At the second rally of the year, the seniors had a plan. When it came time for the class to cheer, all that could be heard were voices whisper-cheering and whisper-hollering.
   Foolproof, right? Wrong.
   The seniors still won the cheer. The entire class muttered angrily under their breath, and some students yelled, "Not again!"
   At the next rally, they had another idea.
   The entire class switched places with the freshman class — the seniors moved to the side of the bleachers for the freshmen, the freshmen moved to the senior side of the bleachers, and both of the classes refused to stomp their feet and only whisper-cheered.
   Once again, the class's efforts were futile.    
  At the next rally during the spirit cheer, the lowerclassmen gave their all and cheered as loud as they could. When the pack ran over to the side of the bleachers belonging to the seniors, the air was filled with silence. It sounded as if crickets were chirping, and the students on the bleachers looked around awkwardly as ASB and the pack looked bewildered. 
   Not a single senior had shown up to the rally, but the win was still given to the senior class.
   This continuous cycle of the senior class's wins have led the lowerclassmen to develop a theory: perhaps there is an outside influence that is helping the seniors win each spirit cheer. The three classes have banded together to figure out what this force is, and, hopefully, use it to their advantage so they can finally win the spirit cheer.