COVID-19 is still among us, though some are forgetting about it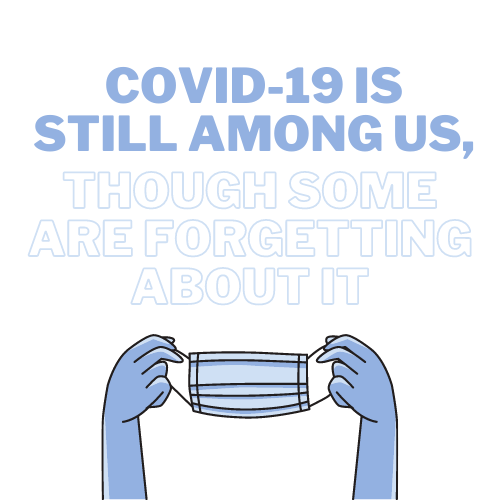 COVID-19, or Coronavirus Disease 2019, is an infectious disease caused by the coronavirus. Some may say that COVID-19 is just like the common cold and will not put their lives at risk. However, COVID-19 can be life-threatening as it is extremely contagious and "can affect your upper respiratory tract (sinuses, nose, and throat) or lower respiratory tract (windpipe and lungs)," according to the CDC (Centers for Disease Control and Prevention). Currently, there is no vaccine or cure for COVID-19.  Although social distancing is enforced worldwide, cases persist.
Practicing social distancing can help put a stop to the spread of COVID-19. This practice limits the chances of being exposed to contaminated surfaces and people who may have the disease. Throughout the world, variations of social distancing have been implemented as a precautionary measure against COVID-19. People are urged to stay at home and keep their distance from others as a precautionary measure, and it has now become a part of everyday life. 
According to the Santa Clarita Valley Signal, there have been a total of 6,446 cases COVID-19 cases and 66 COVID-19 deaths in the Santa Clarita Valley as of Oct. 8th. On Oct. 7th the Los Angeles County Department of Public Health confirmed 59 new cases among Santa Clarita Valley residents and one new death. Public health officials shared that this "is the highest number of new cases [in the Santa Clarita Valley] in a single day reported since late August."
"At first when everything started in March and April people were doing [social distancing] really well," West Ranch junior Mason Eskandar explained. "And then for some reason, people thought the cases stopped happening around like June or July and started thinking they could go out and do anything and then the cases spiked. People started fine and got too comfortable, which made everything worse."
Jordyn Call, a Stevenson Ranch resident, claims "everyone was very cautious and everyone would stay home and use masks. They only went out whenever it was super necessary, but now everyone's a lot more relaxed" 
With the pandemic still present, the Santa Clarita Valley Signal reported in May that  "more than 100 Santa Clarita residents stood at the corner of a Valencia intersection, demanding that Santa Clarita and California reopen." Protestors stood along the streets holding signs which read "we just want folks to know that all jobs are essential, all businesses are essential," and "take off your masks" and "COVID-19 is a hoax." Many of these protestors were not wearing masks, going against social distancing guidelines, which would only increase the spread of this deadly disease. 
West Ranch Senior Ryan Conway, a host at Wolf Creek Brewery & Restaurant, shared his experience of working at a local restaurant in the midst of a pandemic. "Multiple times a night, people will come in without a mask, we will have to ask them to put one on and they are not always compliant with that, so we would have to ask them to leave, and then inside, people don't like to follow our rules, of standing six feet apart from each other," Conway explained.
Hart High School Junior Mia Lindgren, a staff member at Olive Terrace Cafe in Santa Clarita, also shared her experience. "One time a lady and her boyfriend came in both not wearing masks and I told them I could not help until they put masks on and they started to yell at me saying that "coronavirus is fake and we are all going to die anyway" and then had to have my manager kick them out for not following social distancing guidelines," she said. Lindgren explained that she has to deal with people who disobey social distancing guidelines "very often" and has to "be careful because [her] mom has a lot of health conditions and if she gets sick it would not be good." It is crucial that people follow the precautionary measures enforced as although it might not have a huge impact on them, it can spread to people who are at higher risk of dying from COVID-19.
Although it is ultimately the responsibility of each individual to wear a mask, some citizens' choices not to do so have played a huge role in the rising COVID-19 cases. 
It may be hard to constantly keep our distance and limit ourselves from the public. However, we must remind ourselves of the current situation and the serious consequences of a single person's choice to not socially distance and take proper precautions.