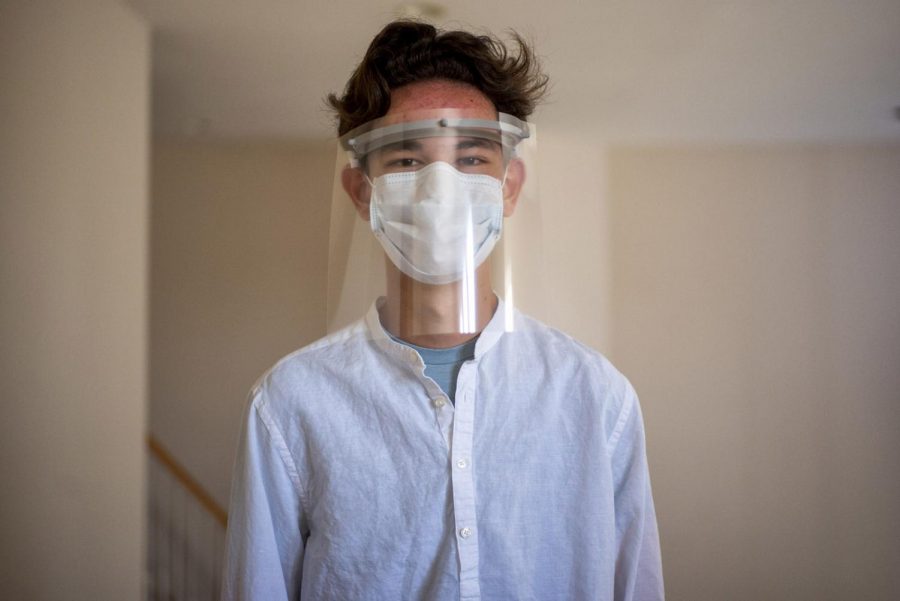 Kevin Gillespie
Kevin Gillespie is a senior at West Ranch who founded a student-run nonprofit organization with his team members Shaden Nasr, Matthew Chan and Rachel Gim. The organization, Open-Source Print and Protect, designs, produces and distributes face shields to frontliners in the community. When quarantine began, Gillespie decided to make his own face shield design by using his 3D printer at home. Since then, OPP has been continuously working towards a safer community amidst the COVID-19 pandemic.
Q: What inspired you to start this organization and when did you start? 
A: "I founded OPP with Shaden Nasr, Matthew Chan, and Rachel Gim on April 7. I had been into 3D design and printing, and decided to create a cheap, optimized face shield design as a quarantine challenge. It was then that I realized I could make something of this, so I reached out to three people who I knew had lots to offer. We then incorporated, became a 501(c)(3) non-profit, and OPP was born."
Q: What was the process behind the scenes? 
A: "Behind the scenes, a fantastic team made everything work. Shaden Nasr called and set up over 100 orders, Matthew Chan designed and maintained the website (www.printandprotect.org), Rachel Gim did our PR and social media, and David Gee managed our supplies. Will Bennett, Remy Bell, Tristan Manalang, and Owen Sayre also served as printers for our group along with Matthew, David, and myself." 
Q: Were there any difficulties during the process? 
A: "Certainly! Running a non-profit isn't cheap, and the work doesn't return funds. We had to raise all of the money to donate our soon-to-be over 6,000 shields. We've raised nearly 9,000 dollars now, but getting there was not easy. After an initial burst of funding from family and friends, we had to form partnerships and get press coverage in order to raise the rest and continue." 
Q: What was the most memorable part of the journey so far? 
A: "When I woke up to a phone call at 7 AM, to realize that it was a producer from KTLA. She had emailed at 5 AM and wanted my address so that she could send a camera crew THAT morning. I scrambled to get the team ready and to my house, and then we learned that it would be live broadcast. It was nerve-wracking, but an amazing experience! Any time the team has been able to get together (safely) to do something has been fantastic."
Until the day everyone is guaranteed safety from the COVID-19 pandemic, Open-Source Print and Protect will do their best to continue distributing face shields to the community's essential workers.