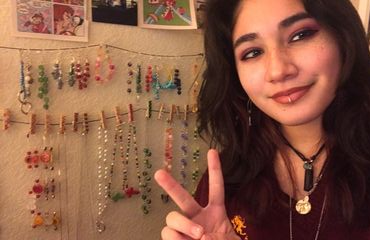 With the pandemic, many people have been having a lot of time on their hands, finding new passions and even starting businesses. Karla Huazano, a sophomore, found a passion for creating jewelry and began her jewelry business during quarantine. It started from a gift for her friend and grew into a business when she wanted to sell her creations to a broader audience.
Q: Why did you start making jewelry during quarantine? 
A: "I started making jewelry during quarantine because it actually started out as a gift for someone and I made them a few pairs of earrings, and I was like this is actually really fun. Little by little I started getting more stuff. It was really just for myself and my friends. Then I started considering selling to people, so then I could reach more people and it just became a really big hobby. Selling it and having it to be something that I already really enjoyed just worked out really well." 
Q: What is the process in making your jewelry? How long does it take? 
A: "Most of the time it doesn't take longer than maybe like an hour or an hour-and-a-half. The necklaces usually take the longest. If I do something that needs a lot of handwork, which is not just beading, that would be one of the pieces that take the longest." 
Q: Where do you sell your jewelry? 
A: "I sell through Depop. I am going to start selling through Instagram because it is a lot easier for people."
Q: Have there been any challenges thus far with your business? 
A: "It's slow at the beginning. Sometimes I wished that I would get more traction and reach more people. Sometimes it gets a little tiring and some days I don't feel like putting in the work all the way." 
Q: What is your favorite type of jewelry to make? 
A: "I love making necklaces."
Despite the negative impact this pandemic has had on many West Ranch students, Huazano has turned this endless amount of free time at home into her own profitable jewelry business. Embracing her newfound interest, Huazano has utilized this quarantine to spend her time doing something she truly enjoys.