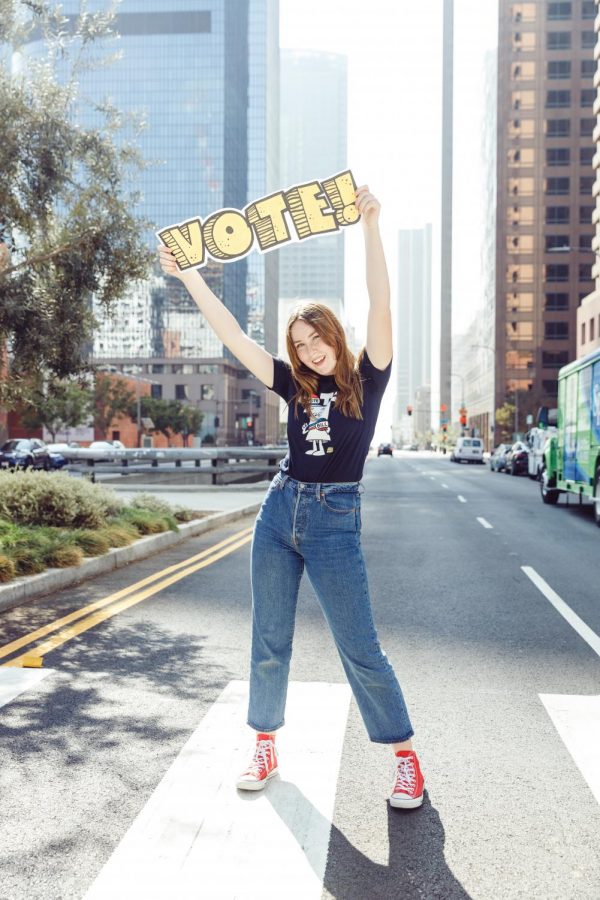 Skylar Higgins
The 2020 election was a major event that occurred when everyone was quarantined at home due to the coronavirus pandemic. While this election was significantly different from those in years past, senior Skylar Higgins was eager to take part in this year's historic voting day. To become a poll worker, she registered at the LA County Registrar's office and went through training online and in-person to learn how to operate the electronic ballot machines and how to aid people in the voting process.
Q: Why did you want to serve as a poll worker? 
A: "I wasn't quite old enough to vote in this election, but I still wanted to get involved, so when I found out about being a poll worker, it sounded like a great way to do that."
Q: Why kind of tasks did you do?
A: "As a poll worker, we were in charge of making sure everyone was able to vote quickly and safely. I checked people in, registered new voters, helped people operate the new electronic ballot machines, and sanitized everything."  
Q: What was the process like to become a poll worker? 
A: "First, I submitted a form to the county endorsed by our teacher coordinator Mr. Holland, and then I got approved to work. We had a three hour training online and went to a five hour training in-person that taught us how to use the machines and what to do in different scenarios."
Q: What was your most memorable experience? 
A: "On the last night we were working, election night, a woman came in about 15 minutes before the polls were closed. She told us about how she had never voted before, but wanted to set a good example for her daughter and get involved with the democratic process. It was a really nice moment for me because I could see how real people are all able to get involved through voting, and we could help them do that with on-site voter registration." 
Q: Would you serve as a poll worker in the next election? 
A: "I definitely want to serve as a poll worker in the next election. I loved being inside the election process, and it was so much fun meeting new people and bonding with the poll worker team!"
The pandemic could not stop Higgins from getting involved in the 2020 election, and with such a memorable experience as a poll worker, she hopes to serve in the next one as well. The Paw Print thanks her for her work in helping others participate in our country's democracy.