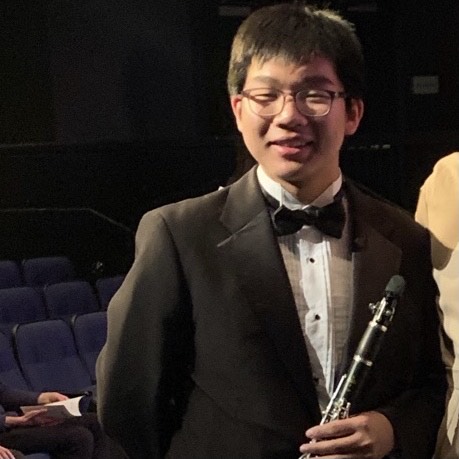 Daniel Tsan
Daniel Tsan started playing the clarinet in 6th grade. Seven years later, he is one of the best, first chair clarinet for the West Ranch Band. The Paw Print talked to this talented artist and asked him several questions about band and life.
Q: Why do you think you were chosen for The Paw Print's 18 Under 18?
A: I'm actually not sure because that was the question I was going to ask! I think someone must have recognized what I have been able to do through my clarinet playing and believed that I should be a part of this list. 
Q: Tell me a little bit about how you started clarinet, and how you got to where you are now.
A: I started playing the clarinet in 6th grade. Now that I'm a senior, it will be my 7th year of playing the clarinet. Before 6th grade, music had already been a large part of my life, as I have played the piano since 1st grade. However, picking up the clarinet allowed me to participate in music activities at school. Rather than music being only a part of my life at home, it also became a part of my life at school when I began playing the clarinet in band.
Throughout my 6 plus years of playing the clarinet, I've had some great mentors, including the upperclassmen who took me under their wings and the private teacher that I had lessons with for a total of around 2 years. Through great instruction and lots of practice on my part, I've been able to accomplish a lot with the clarinet, including being the section leader in marching band, first chair in Wind Ensemble (our school's top concert group), and a multiple-time clarinetist for our district's Honor Band.
Q: What do you enjoy about the clarinet and music?
A: At first, I wasn't very fond of playing the clarinet because I thought that it was objectively worse than the piano. Looking back, that was a biased and uninformed opinion. After playing clarinet for many years, I came to appreciate its voice-like qualities. Since the clarinet is a higher-pitched wind instrument, it's able to play melodies as if it were a singing voice, something that is significantly harder to do on the piano, which is a percussion instrument. I love the clarinet's clear, beautiful tone because I found a different form of expression through it. 
For music in general, I enjoy both listening and playing music to relax and de-stress. However, I also enjoy music because I can express my emotions and creativity through it. But most importantly, I love that music can bring people together. I love sharing music with people close to me and enjoying it together.
Q: What are some of your favorite types of music to play, or sources of inspiration?
A: My favorite type of music to play on clarinet is actually very different than my sources of inspiration. I like playing classical music on the clarinet since there is a vast library of works for clarinet in this genre. But, beyond classical music, I actually listen to a lot of ballads, jazz, and R&B. I get a lot of my inspiration from these genres.
Q: What is your biggest achievement while playing the clarinet?
A: I think my best achievement was when I became the first chair in Wind Ensemble during the second semester of my sophomore year. However, what I loved about being the first chair wasn't my high position in the band. I didn't love playing solos and being in the spotlight, either. Instead, I really enjoyed leading sectionals (a time where students practice with their sections instead of the entire band) and being a resource for musical knowledge. I loved building up my fellow clarinetists and being able to pass down the knowledge and wisdom I learned from my mentors.  
Q: How much time do you spend playing clarinet each day?
A: Unfortunately, I have to admit that the amount I practice isn't consistent throughout the year. It definitely varies depending on circumstances and the time of year. If an audition or a concert is coming up, I'd probably practice for about an hour every day. If we're in between concerts and I'm busy with schoolwork, I'd probably practice for an hour a day, 2 days a week. Nowadays, during the pandemic, I'm playing the clarinet for about 90 minutes a day, 3 days a week.
Q: How do you balance clarinet and school?
A: That's actually a balance that I haven't completely mastered yet. However, I think the key to balancing school and clarinet, or music in general, is time management. It's something that's always said, but it has truth to it. If I schedule out my days to include time for me to study and practice music, I'm usually able to get both done without much trouble. If I don't schedule things, it's a lot harder to actively try to fit both activities into my day.
Q: Has the pandemic affected your experience playing this instrument in any way, and if so, how?
A: The pandemic has definitely affected my experience with the clarinet. I'm no longer able to perform with the band in person and with the music performance club that I'm a part of, "Harmony". Playing clarinet has become more individual than it has ever been for me. It's a different feeling playing on your own than compared to that of playing with the band. 
Q: What do you have planned for your post-West Ranch future?
A: As a senior, I'm hoping to get accepted into a nice college and spend the next four years there. After that, I'm not sure. The future is unpredictable, so we'll just have to see what happens. However, I'm pretty certain about one thing in the future. I'll keep playing music as a hobby because it's been such a huge part of my childhood and my school life. Hopefully, I'll get to continue playing the piano, playing the clarinet, and producing music for fun. 
Daniel Tsan is a truly gifted musician and individual. The Paw Print wishes him nothing but the best as he finishes his senior year at West Ranch and prepares for college life.