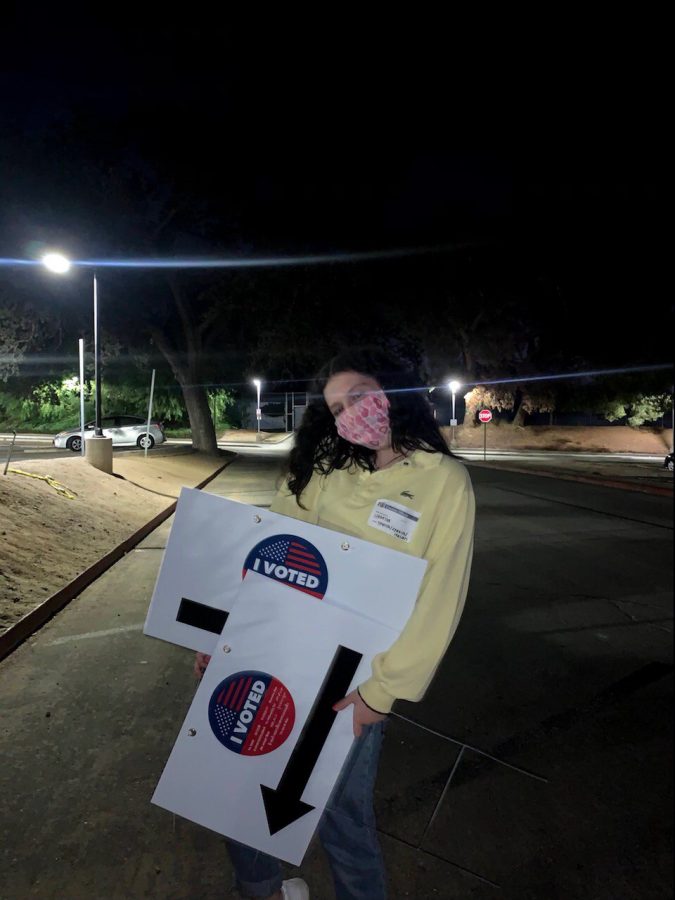 Isabella Montano
There is no doubt the coronavirus has broadened America's political stage, spotlighting various topics and policies. Over this short period, we have seen deepening polarization. These tensions have increased activism, persuading millions to flood the streets protesting and demanding change; however, finding safe political advocacy opportunities as a student can be challenging. Despite the many barriers, West Ranch senior Isabella Montano has optimized her time at home, discovering a plethora of ways to engage in politics— one of which is volunteering as a poll worker in the recent presidential election. 
Q: What motivates you to be more involved in politics and this specific election in general? 
A: "I think I have had a passion for politics for quite some time just because it has been present within my family, especially with my brother majoring in political science, but I think this specific election I knew there was much more at stake. Since I am only 17, there is only so much I can do; I cannot vote but I knew that being able to eventually work at a voting poll would be one of the greatest things I could do that comes close to voting."
Q: How did you sign up to volunteer at the polls? 
A: "My friend that goes to school in Los Angeles told me about this program because she heard about it through her school and basically she sent me over the form which consisted of a simple application which asked for your GPA, a signature from a teacher and a parent signature; and it also included all the information and what the job would consist of and that was basically it." 
Q: Are you planning on pursuing politics in the future? 
A: "Personally, I am more interested in the science and stem related fields so I do not intend to pursue any sort of political thing in college or as any sort of job, but it is something that I really do like so I hope to be more involved in more political things [outside of school] such as working at the voting polls in the upcoming years and be an active voter."
Q: What was your favorite part of working as a poll worker? 
A: "The first weekend I had to work outside, so I had to welcome people in or lead them out and had to answer any questions. The most memorable moment was every time someone would say, 'Thank you for doing this,' or a lot of people would even give a  small encouraging message like 'You are doing amazing; we need more people like you.'" 
Q: Do you plan to work as a poll worker for future elections?
A: "Yes definitely. I had a really good experience. I got to meet a lot of new people. I got to hang out with a lot of people that I previously knew, and overall it was a really good experience that I want to continue participating in. Besides working at the voting polls I will make sure to be an active voter and continue doing my part."
Q: What have you learned from being a poll worker? 
A: "When you show kindness, I feel like people really reciprocate that kindness. When I was welcoming people in at first they were grumpy about it and my friends and I would welcome them with a smile on our faces and try to be as nice as possible. In the beginning, they would be grumpy, but in the end, they would be like, 'Oh they are nice.'" 
Q: Why is political activism important to you? 
A: "I definitely think that the political climate we are going through right now has shed light on previous injustices that were not focused on as much. Very few people knew about it, but now slowly, more people are getting informed. I want to make sure it continues on, and people know about the injustices and do not use [their activism] as a trend or anything. There is always going to be an [immoral] issue and I hope people continue to fight for those issues."
Q: How do you plan to continue fighting for those issues and ensure that it is not just a trend? 
A: "I definitely want to spread word about what is going on as much as I can. I will continue to inform myself and inform others. I think sometimes people think you have to create a whole organization to be able to share your message, but sometimes sharing the message with your close friends and family can do a lot. I will continue to do that and attend any protests there are. I will continue to work at voting polls if I can, I will continue to vote when I can so I can have a word on the political issues." 
Q: Final comments?
A: "Keep voting for all those who can not! This job was actually offered to students as it is normally held by older people. Due to COVID, they do not want older people to be doing it, so it was really nice that students had an opportunity to work at voting polls and keep others safe." 
Montano's spirit for political advocacy and investment in her future is one that can be found in many of today's Gen Z students. Her story is a local example similar to the others that have taken over the internet. Shared and virtual, or direct and in-person, Montano is proof that anyone can actively engage in the politics that shape their future.