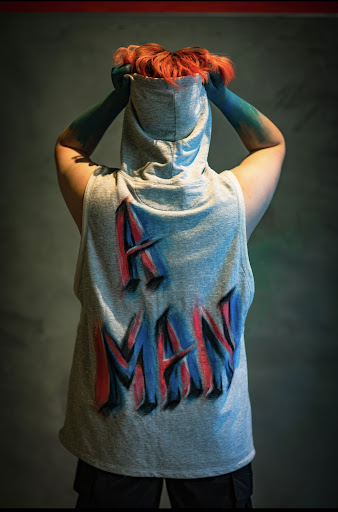 Anna Kim
   West Ranch has a lot of talented students on campus, but there are few who are truly artistically inclined.
   Senior Anna Kim is a young artist who seeks to communicate their identity and beliefs through a combination of materials and transformative ideas.
   Rather than sticking to the more common form of painting, Kim uses mixed media to create their art. 
   They expressed, "The medium to me is just as important as what I'm creating out of it. Because of this, I would call my style sporadic and emotionally impulsive, but that's what's so fun about it."
   Kim was not always the artist they are now. Art was just a pastime for them when they were younger, but they explained that they "really started to delve into testing the limits of 'art' these recent years."
   "'What was I allowed to say and use for my work to be considered art?' Standards like that at first really troubled me and even today, is something I'm trying to grapple with," they shared, "I wanted to continue using traditional mediums, but I didn't want to restrict myself to it. Surprisingly, these same restrictions are what inspired me to make more unconventional work. Rather than dwelling on the disapproval of many, I focused more on the few people that resonated with the work."
   In terms of inspiration, Kim believes anything can be a reason for starting a new project, finding ideas in articles they read online or conversations with peers. They find that, by talking with queer POC friends, they "end up discovering a lot about [their] own individuality." 
   When working on a project, they first create sketches and write down notes on any accessible piece of paper, deciding what materials to use and the message they want to share through details. Afterwards, they dedicate their time to gathering necessary equipment. Depending on how invested they are in the project, Kim spends a few hours each day making the piece or whenever they feel inspired. 
   They post photos of the work on digital media platforms before either giving it away, properly disposing of it or just keeping it for themselves. 
   One of their favorite pieces is "I'm Still," a capture of performance art involving the use of acrylic paint and fabric.
   "Transgender identities are invalidated and compromised because of false narratives and standards. In this piece, I attack the idea that trans-masculine people must hide or detest their chest in order to be seen as valid and masculine. Dysphoria is an individual experience that should not be dictated by the cis-majority. As I acknowledge my chest- something I have dysphoria over- I also reinforce to the viewer that I am still a man," Kim explained.
   For Kim, art is "a new way to gain perspective on visual and interactive communication as well as the experiences of people."
   Their favorite artists include Ai Wei Wei and Mariko Mori, both individuals who also use mixed media to convey their political and self-reflective beliefs. 
   After high school, they plan to study gender and sexuality in a college with an interdisciplinary program to expand their hard skills as an artist while learning a "proper foundation of theory and history."
   Kim would like to one day hold an exhibition for their work. "My ultimate goal is to reach out to a wider audience and for my artwork to spark or disrupt current ideas and systems that we live and experience," they shared. "I want to delve into community engagement and have the opportunity to create larger scale works like both physical and virtual installations. At the end of it all, art is made by people for people."
   To other students who are or want to be artists, they advise them "to create for the sake of what you're passionate about. It's so easy to get swept up in the mindset of comparing yourself to other artists or thinking art itself is a useless skill. Be able to self-reflect in a way that doesn't hold you back or discourage you. And above all, have fun with what you do."
   Anna's projects can be found on their Instagram page using the handle @pudding.anna, or on their website annaskykim.com.