Christmas Tree Traditions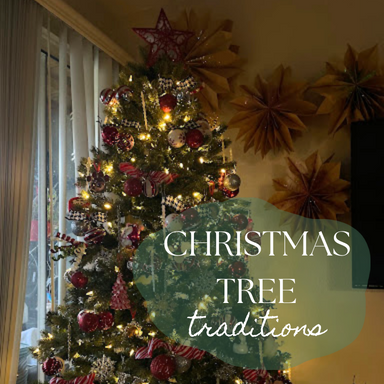 During the festivities of the jolly season, many find themselves partaking in traditions both century-long and more recent. An especially common tradition is the Christmas tree, with many families going out in December to pick out pine trees and decorations. With the popularity of the tree comes the tradition of decorating, and many students have unique ways to participate.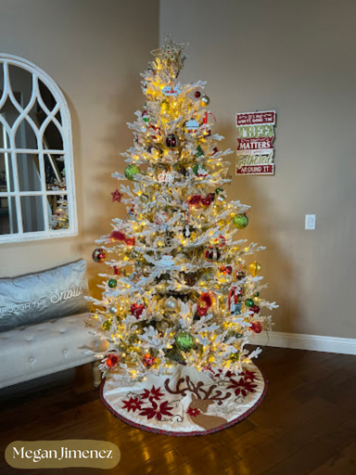 BUYING THE TREE
Purchasing a tree varies from person to person as the holiday season comes around. Some appreciate the fresh scent and traditional feel of a real evergreen, while others prefer a faux tree, free of mess and reusable. Wildcats recounted their preferences of buying a tree perfect for their needs.
"My family gets a fake tree due to the lack of care it takes for a fake tree compared to a real tree,"  sophomore Sofia Wasowicz explained. "Some may say that a fake tree is expensive, but that way you only have to purchase it once instead of constantly buying a real tree every year."
West Ranch algebra and geometry teacher Mrs. Riederer shared, "I continue to buy a real tree probably because of the tradition of it. There's some sentimental memories and things that go along with that. I definitely think, though, that the older that I get, each year I have an internal debate: 'Is this the year that I'm going to buy a fake tree?' So far I have not." 
Additionally, the time to buy or bring out the tree is revisited each year by both real and artificial tree advocates. Most begin their Christmas traditions in late November to early December, when Thanksgiving has passed and people are beginning to celebrate the festivities of the season. 
 "My family and I put up our Christmas tree after Thanksgiving because we love Christmas and love having the tree up, so we assemble it as soon as Thanksgiving is over," sophomore Megan Jimenez expressed. 
"I refuse to put my Christmas tree up before Thanksgiving week because Thanksgiving needs its time to shine," Wasowicz expressed. "My family's consistent. It's always a day or two after Thanksgiving so we can relax from another holiday."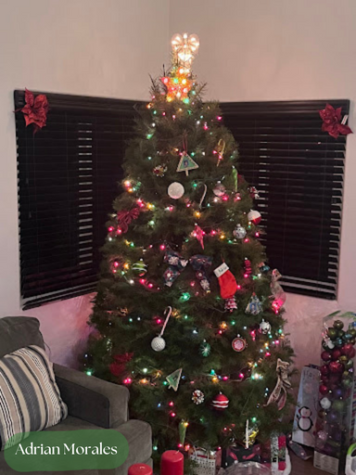 FESTIVE DECORATIONS
After buying the tree, the next part of holiday tree traditions follows: decorating. The Christmas tree decoration process allows for students to spend time with family, while also getting reacquainted with the holiday spirit. 
"My favorite part about decorating my tree is spending time with my family," junior Adrian Morales said. "I also love being able to see the final look when it is completed."
Common ways to accessorize each evergreen include traditional red and gold bobbles, accompanied by twinkling lights and tinsel. However, many students decorate their trees in unconventional ways, adorning their trees' boughs with unique and personal ornaments.
"My mom likes to make a theme for the tree every year," Wasowicz recalled. "Last year, the tree was Grinch-themed and it was really cute and creative. This year, the color theme is red and gold and it has some ornaments [my family] made over the years as elementary school children."
"I love unwrapping the ornaments and savoring that special feeling. My favorite ornament is the one that my husband and I got when we got married." Mrs. Riederer remarked. "It's two flamingos in a giant diamond ring. They're sitting in the ring and it says our year that we got married, and it's kind of cute, you know?"
The final finishing touch of the decorating process is the topper. While most commonly use a star, others go for a more unique path. 
"My parents always argue about what topper to put, because my dad wants a Santa Claus one and my mom wants a star," Chelsea Higgins, a freshman, recalled with a laugh. "It kind of goes back and forth throughout the season."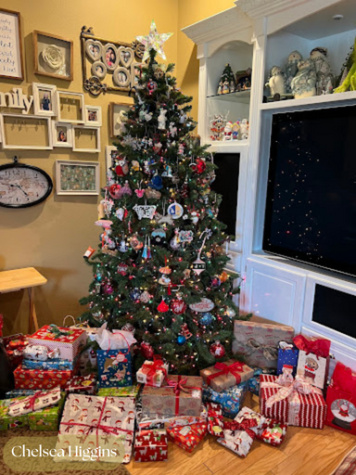 A WALK DOWN MEMORY LANE
After partaking in the process of buying and decorating, annual tree traditions can bring back unforgettable memories. Nostalgia of past Yule seasons tends to come back to life with the tradition.
Jimenez reminisced, "My favorite decorating memory would have to be from when I was younger. I remember eating Christmas-themed cookies in my pajamas while finding places to put ornaments." She adds, "It was a very peaceful and loving time and I still remember the warmth I felt from my family and the fireplace."
"I love the ornaments that we did in elementary school," freshman Allison Chen mentioned. "Like those arts and crafts that we used to do, because I like looking back on nostalgic things. I think it's really adorable." 
The Christmas tree tradition has been a staple during the holiday season for so long that many memories have been made through the experience. Each tree comes into homes with the opportunity to make a special impression to families everywhere.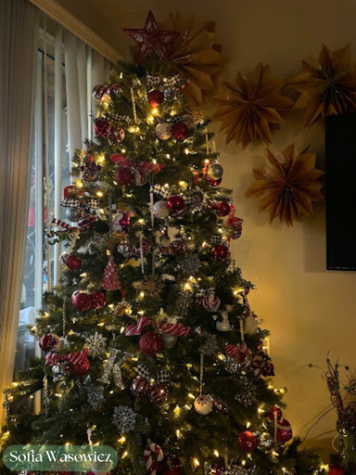 Ultimately, the warm feeling of the holiday season that a decorated tree invokes in those who celebrate is a beloved holiday tradition. Christmas trees tell stories of childhood, travels and life, making this time of year an especially memorable one.