The switch to streaming services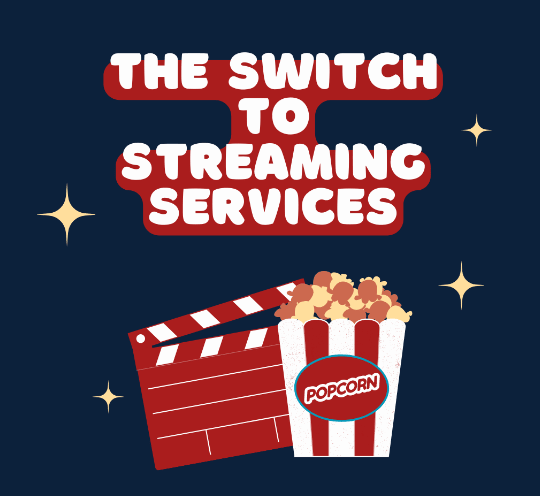 Streaming websites have gained popularity in the last few years, primarily due to the fact that many people are canceling their cable plans in favor of streaming. 

Rise of Streaming Services 
For years, many people have already been using streaming services. However, the rise in the overall use of these services has increased and the use of cable has decreased significantly due to the pandemic.
Because of the lack of entertainment during the pandemic, people spent more time in front of screens. However, there weren't any new TV episodes or movies being released because actors, directors and producers were under quarantine as well. The only option was to download streaming services
Freshman Film Club activities coordinator Eric Campos described how "The ability to decide when and what you want to watch is useful, especially compared to something like a movie theater or cable. And the amount of film or T.V. you can get on any single streaming service is ridiculous, and almost overwhelming."
Eventually, people developed a habit of watching movies and TV shows on these platforms. The pandemic normalized streaming services over cable for the numerous conveniences it provides users.
Conveniences
Streaming services are known for their convenience of watching anything, anytime. With a wide range of TV shows and movie collections, viewers have the advantage of watching any movie or show from the comfort of their couch, on the bus or even while exercising.
Furthermore, Campos mentioned how, "If you want more value for each movie you see then streaming services are almost always beneficial." 
They also offer live coverage, further alleviating the need for cable television. Several streaming services offer live coverage of the news or games for a variety of sports.
There are many streaming services that provide different shows and movies. In order to keep everyone entertained in an easily accessible way, some streaming services offer a bundle that decreases the price. There are many more offers and deals available for each service, including extra perks such as no ads.
In an attempt to save money, people can share a single account. This cuts costs and allows everyone to have their own personalized experience with their own profile. 
West Ranch junior and WRTV member Alina Park expressed, "I like streaming services because I can fully control what I watch whenever I want, and I can watch old and new shows." 
Inconveniences 
Still, streaming services share both conveniences and inconveniences, which has left many families unable to completely detach themselves from cable. Overall, considerable factors have prevented a mass migration to streaming services. 
One concern, in particular, is the pricing. For example, if someone wishes to access a specific movie or show but their streaming service doesn't include it, they are obligated to pay for another streaming service to gain access. With so many different streaming apps specializing in specific entertainment available, eventually, the price of multiple different apps will equal the cost of paying for one cable plan. 
Park described how "Streaming services are mostly paid with subscription, and it's easier to pay for cable sometimes". 
Furthermore, in terms of costs, it's very common for streaming services to require a premium subscription to access all of its content or have no advertisements. A big reason why many people switched to streaming is because of the lack of commercials in comparison to live television. Or, for other streaming services, not only do you have to pay for a subscription, but you also have to pay for each piece of content via renting or purchasing it outright. 
"I think it's the money factor," described junior Karina Hartounian."Some streaming services cost a good amount of money a month, and for many people, it's just another bill to pay."
And, even with the headache of paying for each subscription monthly, there is not a guarantee that your favorite shows will be on a service forever. 
"The future of streaming services remains to be seen, and how beneficial they turn out to be ends up being a question of personal value," described Campos, "I personally still use them and I most likely will for quite some time but, like everything spent with your money, they should be treated with caution."
Overall, the rise of streaming services has both benefits and drawbacks, so it's up to families to decide what they believe will be the most convenient for them.