Resolutions for Entering 2023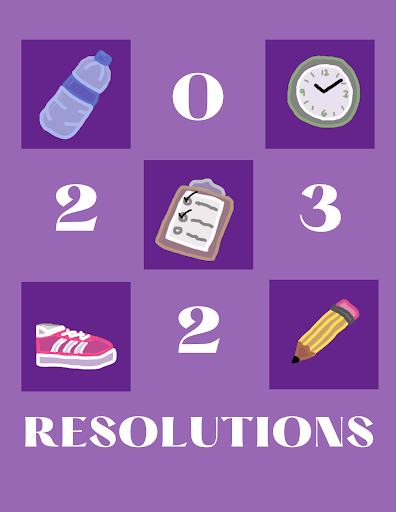 Each January 1st, resolutions are made as a method of guidance for living through the year ahead, whether through a physical or mental goal.  In this tradition, common resolutions include physical fitness, such as going to the gym frequently and eating healthy. Other plans include mental wellness, such as working on better time management and embracing favorite hobbies. In 2023, some of West Ranch's students are pursuing a combination of physical and mental goals, focusing on daily habits to get there. 
Freshman Audrey Kim shared, "This year I want to start drinking more water, be able to touch my toes and manage my time well. Between studying, tennis and ASB, I'll probably be making a lot of to-do lists to remember and stretching more often." 
"My New Year's resolutions for 2023 are to go on more walks and do more spontaneous trips with my friends," expressed senior Caroline Dolce. "By appreciating where I am and going with the flow, I find that it leads to balance. With balance, I have time to do what I enjoy, such as walking and being with friends."
Students have different views on the annual practice of resolutions. While some regard them as an exciting way to approach the year ahead, others beg to differ.
"Even though it can be fun to have resolutions, I don't like to wait for a new year to start to change my goals," explained sophomore Krish Singh, who doesn't have a resolution for 2023. 
Nimesha Mahle, a freshman, noted, "I think in general it's nice to have goals for the new year, but the tradition of following and setting resolutions also causes a lot of stress for people. Resolutions should definitely be more achievable, otherwise it's easy to get burned out at the start of the year."
"I make resolutions every year because I like to reflect on what made me the happiest during the previous year," Dolce countered. "I find it to be very beneficial as I learn about myself and embrace the opportunities that the new year has to offer."
When December concludes the year, January provides an opportunity for reflection and setting new goals. Resolutions are reminders to make the most of each day and work towards specific achievements. Something as simple as a quick daily habit can alter every day, little by little. Though it may be difficult to keep resolutions going, staying dedicated can make goals of the future become reality. 
"A lot of people probably give up on their resolutions after a few months, because they get distracted or lose interest," concluded Kim. "Making sure to set goals you're actually willing to put effort into achieving, along with having a good mindset for the year, can help you stay motivated."