Titanic's 25th Anniversary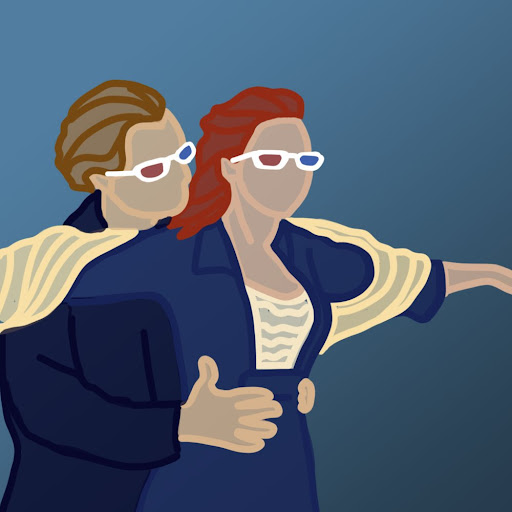 This past February, movie theaters across the country reintroduced a familiar title to the big screens: "Titanic". After 25 years since its first release in 1997, "Titanic" was brought back in cinemas to celebrate the classic love story for the month of Valentine's Day. 
The movie follows the "unsinkable ship" that sank in 1912, the RMS Titanic. The iconic story follows a poor artist who gambles his way into getting a ticket, where he meets an upper class aristocrat unhappy with how her life is set up to be. The two fall in love, but their happiness is cut short the moment the ship starts to sink, and they do everything they can to survive. 
"I really like the storyline of the movie," freshman Brianna Machado shared. "At first, I thought it was a real story, but I found out that it was actually made up, which is really cool. I like how it was based on a true event, but it's still fictional."
"I saw it with my mom the weekend it hit the theaters," Kristen Peng, a freshman, reminisced. "It was my mom's first time watching it since it was released in the 90s. Even though it's really sad in the end, it'll always be one of my favorite movies."
Santa Clarita's theaters, such as Regal Edwards Valencia and Regal Edwards Canyon Country, showed "Titanic" in 3D from February 10th to 23rd, and many West Ranch students took advantage of this timeless film's re-run.
"It's very original," added Machado, who viewed the movie at the Regal Edwards Valencia theater. "A lot of rom-coms are all the same, and there's just a few that stick out and become classics – this one sticks out. Plus, the actors are great in the film."
The cast of the film, which features Hollywood icons Leonardo DiCaprio and Kate Winslet as the lead couple, remains an irreplaceable component of the movie that made "Titanic" what it is today. 
 "The actors honestly make the film for me," senior Lauren Alvarez said. "Leo's performance is perfect, and if someone said that his role in 'Titanic' was his crowning achievement, I wouldn't disagree."
"Titanic" is and will remain one of the most iconic love stories of all time, along the likes of Romeo and Juliet.