Dyed Hair Epidemic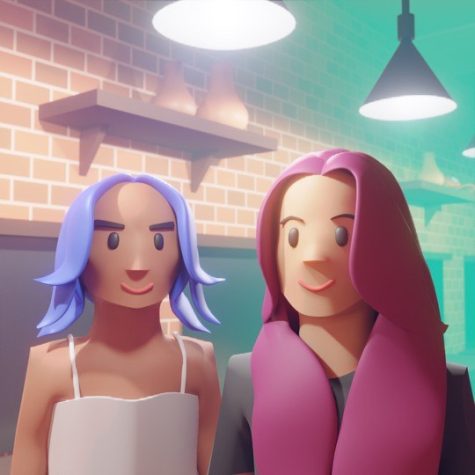 Walk around campus and you will surely see a number of students, maybe even friends and teachers, with a head of colorful hair. Ranging from bright neon hues to natural highlights or rainbows, West Ranch is never afraid to show its true colors.
During quarantine, a growing number of people looking for ways to experiment with their appearance or kill boredom, took to the beauty supply stores to change up their hair colors.
Among this growing population is West Ranch High School junior, Jaena Danaram. Taking inspiration from a girl she once saw with bright red hair, Danaram has since sported six different bright neon colors — a sharp contrast from her naturally dark hair. 
Danaram spoke to The Paw Print about how those around her have treated her differently now that she has dyed hair."I get a lot of negative reactions from adults, and little kids stare at me really weirdly. Some of my friends were really rude. They liked my long black hair. I like my dyed hair," Danaram said. 
Despite negative reactions from others, Jaena expressed that dyeing her hair has been a positive experience as she revealed, "I've just been more confident, and I feel more myself." 
Junior Leena Kang also described her positive experience with having dyed hair. She explained how this form of self-expression quickly became a part of her identity. "[My dyed] hair has definitely made me more confident. When my hair was just black and brown, it just felt plain and boring and I always wanted to dye my hair pink, so I did. Immediately after I dyed my hair, I fell in love with it and I think it indicated a moment in my life where I started to figure out who I was." 
Behind the vibrantly colored hair, is the technical process that one goes through dyeing it. With this surge of at-home hair treatments comes a number of concerns from the beauty community. 
The Paw Print spoke to Nikki Silvers,a professional hairdresser in Castaic for over 20 years. She said she supports at-home dyeing and thinks it is great as a last resort, but she warns against the use of certain products and methods. 
"When dyeing your hair darker, it is an easier and more affordable option because you are just depositing color. But if you're going to make your hair lighter, you could turn it red or brassy, and if you were to use bleach, you could end up breaking your hair and hurting your scalp, so I wouldn't recommend home-bleaching. Go to a beauty supply shop and get more expensive, better-quality products. Ask people at a beauty supply shop. It's only hair, so have fun!" Silvers encouraged.
West Ranch is an environment that cultivates and supports each students' personal endeavors. Whether that be their academic future or a safe space to express themselves freely, the staff at West Ranch hopes to continue the culture of free self expression that has allowed for many students on campus to show off their brightly colored hair around campus. 
Kang concluded with her views on self-expression. "I feel like doing anything 'irrational' to change your appearance is always a confidence booster. Putting yourself out there changes what people consider to be the 'social norms' and shows that people are happy with the way they are, and genuinely don't care what other people think of them."