Waffle Love review- love at first bite
   The smell of waffles and nutella fill the air in SCV's Waffle Love. Waffle Love opened up its Valencia location in Gateway Village during June of 2020, in the middle of the pandemic. The chain includes 15 restaurants and many food trucks across the country. With many sweet and savory options, Waffle Love has the perfect waffle for everyone. 
   The owner of Valencia Waffle Love Boyd Bell said, "When someone walks into Waffle Love they are getting a break from the hustle and bustle of the outside world. The Waffle Love experience is not simply transactional– our staff cares about people, and it shows."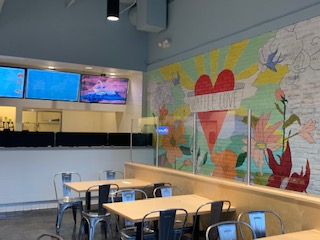 The menu includes 10 sweet waffles, seven savory options and a customization option. The Paw Print tried the Red Wonder, Nutella Love, Chicken and Waffle, and the Nash. Each sweet waffle meal comes with Waffle's Love's signature waffle: the Liege Waffle. 
   Bell shared, "Traditionally waffles are made from a batter. A Liege Waffle is made from a dough. We then knead pearl sugar into the dough, which caramelizes once it hits the iron."
   The Red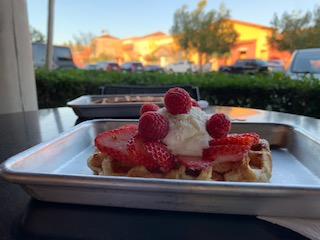 Wonder includes the Liege Waffle, a sweet biscoff spread and whipped cream topped with fresh strawberries and raspberries. The Paw Print also tried the Nutella Love, which included a Liege Waffle with whipped cream topped with fresh fruit of choice and Nutella spread. 
   The Chicken and Waffles is a Liege Waffle topped with two pieces of fried chicken. One of their popular menu items, the Nash, is a sandwich made with two fried chicken tenderloins (dipped in Nashville hot chicken sauce), housemade coleslaw, pickles and special sauce, all on a brioche bun. 
   Another mouth-watering menu option at Waffle Love is the Breakfast Sammy, with a croissant waffle, bacon, eggs, cheese and Waffle Love's special sauce. Additionally, a great sweet option is The Dulce, which is a waffle dusted in cinnamon sugar, topped with fried ice cream, fruit, whipped cream and a dulce de leche caramel sauce. 
   Each dish was served in a metal tin plate, keeping the waffles warm and crispy even with all their toppings. The whipped cream served with almost every sweet item on the menu was cold and creamy, which paired perfectly with the warm waffles. The biscoff spread found in many of their sweet waffles was a delicious topper and the fresh fruit cut through the sweetness.  Each sweet menu item included one small Liege Waffle, which made it a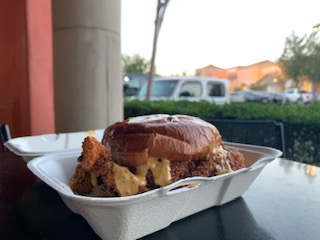 perfect meal for a quick snack or breakfast. 
   All the savory menu items the Paw Print tried included the fried chicken, which was perfectly seasoned and nicely cooked. The special sauce on the Nash was flavorful and the brioche bun brought a nice change from the more sweet Liege Waffle. The items were all decently priced, at around 10 to 15 dollars per waffle. 
   Although there are many delicious items on the menu, Waffle Love's SCV location doesn't have any vegan or gluten friendly options at this time. Bella Sigman, an employee at Waffle Love said, "Unfortunately most of our items contain dairy and gluten except for sides such as eggs, bacon and avocado. Our Northridge store has gluten-friendly dough on hand, though!"
   However, Waffle Love does have options for vegetarians. Sigman continued, "I'm vegetarian myself and I'll use avocado instead of meat. Also, the grilled cheese and the tomato bisque is completely meat-free!"
   Overall, the staff were friendly and kind. Waffle Love's inviting atmosphere welcomes any hungry soul. This location includes plenty of s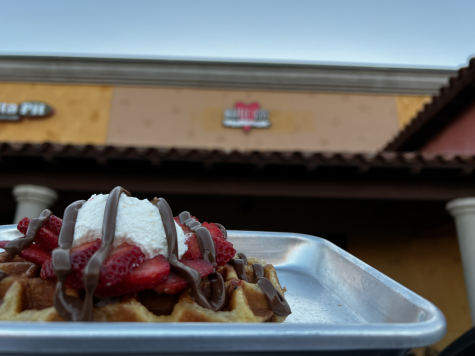 eating inside as well as outdoor seating options to remain COVID-friendly. Masks, as in any other location,  were enforced. 
  The Paw Print enjoyed the trip to Santa Clartia's very own Waffle Love. Next time you are craving a delicious snack for any occasion, be sure to stop by!