West Ranch seniors host art installation nights in SCV: Atypicalevening
   On Sept. 3-4, Atypicalevening, a student-run organization, held art installation nights in Valencia to highlight artists around Santa Clarita. The two-night event featured different mediums of works from life-sized sculptures to paintings and interactive pieces from a total of 18 artists. The first night's theme focused on "Denial" and the second night on "Acceptance."    
   Atypicalevening was created by West Ranch seniors Eshel Ahmad, Mounia Rahman and Kaitlin Mendoza to inspire younger generations to pursue their creativity and speak out about important topics that resonate with them.
   The planning for this event spanned over a couple of months. Co-founder Mounia Rahman explained, "We started off gathering our crew and holding meetings every week to make sure everybody was up to date with creating their installations. Then, we had to plan the set design around the installations."
   As for the name of their organization, the founders aimed to create a title with multiple meanings and interpretations. Co-founder Eshel Ahmad said, "We wanted to choose a name that was normal on the outside with the inside being different and unique. We wanted to do a play on words: A typical evening or Atypical evening."
   With 18 artists, each tackled a different taboo topic of their choice.
   Academy of the Canyons Senior Xander Rhee presented his art "Self-loathing" on night one of the event. He combined pencil and invisible ink to create his piece.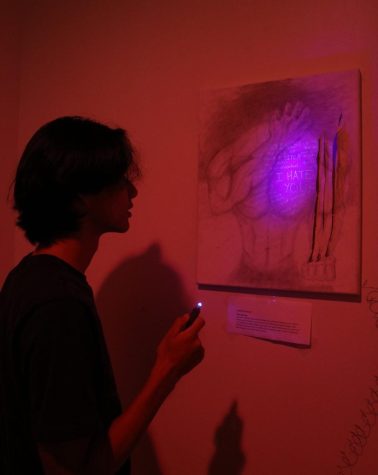 Rhee explained, "This piece took around six days to create. It was my first time drawing a body, but since I studied anatomy for a while, it helped me create my piece. I ran into a lot of issues, however, because the pencil markings intertwined with the invisible ink. Overall, it turned out well and nothing went wrong when ripping the canvas."
   With his piece, Rhee hopes it helps people feel open enough to talk about the topic of self-loathing and express their feelings rather than suppress them.
   On night two, West Ranch senior Aidan Banayo chose to center his piece around the definition of being a man. Through creating his piece on Procreate, a digital drawing program, and projecting it on the wall, Banayo expressed the two "sides" of masculinity: one drawing portraying the pressures of society's standards and the other more expressive and human. 
   Though the message is targeted more towards the male population, Banayo emphasized, "I'm hoping to reach out to anybody I can. It's a problem that's not necessarily spoken up too often, and I'd just like to get it out to everyone."
   Rhee and Banayo both feel satisfied with how their pieces turned out: "It's really satisfying to see the end result like all of those blood, sweat and tears put into a project," Banayo expressed.
   Other artworks that were highlighted by guests of the event include "False Faced" by Valencia High School senior Daniel Lee and "Object" by Van Nuys High School junior Alyssa Chung.
   West Ranch senior Jacob Zerg commented on his appreciation of the art piece. "The message of Daniel's piece is relatable, and I appreciate how much time it took and the hard work put into it. You can tell it wasn't just made over a day, but throughout a long period of time."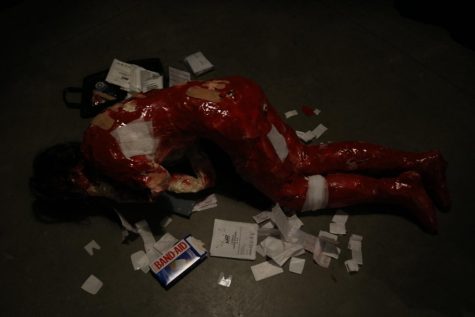 For Alyssa Chung's piece, CHAMPS High School senior Lia Rubin expressed, "I feel this piece is bringing awareness to something people avoid or don't talk about, the objectification of women. As a woman, I relate and her piece really brought the message to life. It's not just a drawing, but an installation. Seeing it gave me chills, and I can see she took her time in creating this piece, and I respect her hard work."
   The event ended with positive feedback from many in the Santa Clarita community, and the founders hope to plan many more events in the future. Co-founder Kaitlin Mendoza explained, "We want to continue to inspire people. For our first event, we just wanted people to see what we do and realize that we're a bunch of high school students and that it is possible to do something like this with your art. Additionally, we hope to do some crossover events with other organizations and branch out to others in the community."