New staff roles on campus (part 1)
Since the start of the new school year, several staff roles have changed and new faces have filled their places. While some staff are entirely new, others have taken over vacated positions from the following year. Here are three new staff position changes at West Ranch for the 2022–2023 academic year.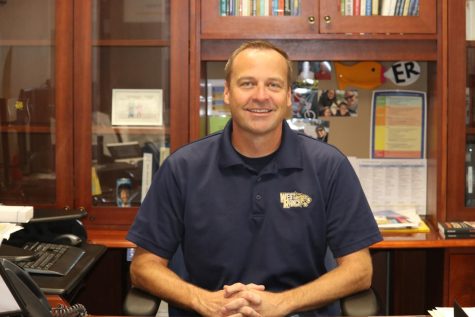 Mr. Fisher
West Ranch's new principal this year is Mr. Fisher. He has more than 10 years of experience teaching at Golden Valley High School and has also served as an assistant principal at both Canyon and Valencia High Schools.
Mr. Fisher shared his thoughts on the new school year thus far: "I am having a lot of fun getting to know our students and staff, and students have been making my job interesting by asking me to be in things like dunk tanks and being able to participate in rallies, so it has been really fun." 
While still learning about the everyday culture at West Ranch, Mr. Fisher plans to meet and get to know the many talented and unique students around campus. There are many exciting events planned for the new school year."Ultimately, the goal is to make this year the best and most normal year it can be," he said. 
West Ranch alumnus Mr. Barnes is a well-known face around campus. Mr. Barnes, a preceding substitute teacher at West Ranch, is our newest Theater Arts teacher and main stage theater production director, all while still pursuing outside acting projects.
Mr. Barnes has many goals prepared for his students and the theater production department as a whole. Students have already begun to prepare for their upcoming show, Alice in Wonderland.
"I'm determined to make [Alice in Wonderland] the best show that's ever hit West Ranch, production and talent-wise, really trying to pull out the best of all my students," he explained, "It's going to be done to Pink Floyd, so Alice is going to crawl through a TV, and we're going to be doing a lot of physical movements and try to play the space in a cool way."
Students have been adjusting well to this change in leadership, and Mr. Barnes expressed that he is excited to be working with students, all while "building a strong foundation within [his] 1A students, so that trickles down later."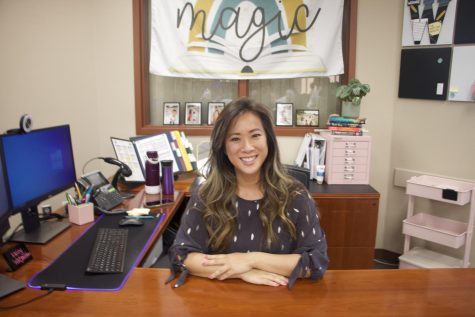 Ms. Wantanabe
Another familiar face on campus this year is Mrs. Wantanabe. After serving as a teacher at Sierra Vista Junior High and here at West Ranch, Mrs. Wantanabe is now our head librarian. 
As she adapts to her position, Mrs. Wantanabe explains how "It's been really busy lately with new librarian responsibilities, there were a lot of tasks that I was not expecting." Mrs. Wantanabe is currently "going back to school to get another credential to be a librarian and I'm in another Master's program, so it has been busy adjusting." 
Mrs. Wantanabe spreads her positivity as she expressed her hopes to make "the library be a warm, inclusive place for students." She added, "I want them to start feeling comfortable to explore different types of books by trying to promote literacy, seeing what students want to read, and also building up our collection to be more current."
Despite her goals for this new year, Mrs. Wantanabe is working on following a similar structure as our previous librarian, Mrs. Erickson, and is primarily working on collaborating with other students and staff.
Our new staff are aiming for a great new school year with every student on campus. Cats, if you see our new staff members around campus, make sure to introduce yourself and give them a Wildcat welcome!