On Sept. 29, students and families admired West Ranch's new campus tree during the long-awaited ceremony held during Back to School Night. Junior Naomi Kim, the head of the beautification passion project, stood alongside West Ranch Principal Fisher and several community donors as she welcomed attendees and spoke to The Santa Clarita Valley Signal about her work.
The ceremony, a result of months of planning, commemorated local businesses, parents and staff for their monetary contributions. One of the benefactors was Boston Scientific, a biomedical and biotechnology engineering firm with a Valencia branch. 
Sandra Lam, a representative from Boston Scientific, shared their reasoning for the donation. "We're just happy to help out and donate what we can to support the school. Naomi reached out to several local community companies, us being one of them, and we helped sponsor the beautiful tree. Hopefully, it will provide some shade for students down the road."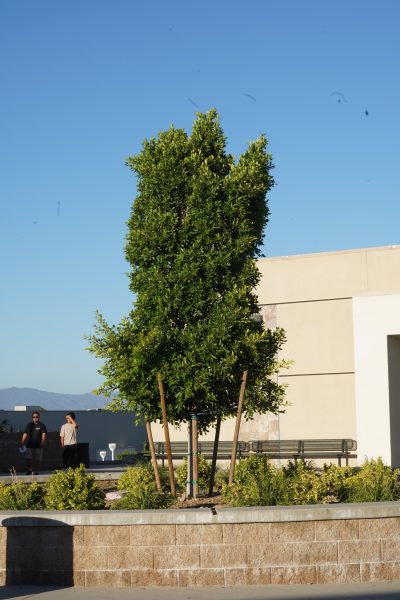 Photos by Esther Pack
The young sapling, which now proudly stands in the center of West Ranch's upper quad, was planted on May 6, 2023. It is a major improvement from the fallen, non-native shrubbery that previously filled the planter. 
Principal Fisher explained the school's sustainable approach to the plot's maintenance: "The water-wise irrigation is installed and working, so we will continue to monitor it and make sure the tree continues to thrive. Eventually, we'll put down some weed barriers and mulch to prevent the weeds from continuing to grow."
Principal Fisher and the faculty behind the project chose the evergreen species for its year-round foliage and large size potential, which would provide the campus with much shade while boasting little fallout. 
Kim summarized the eventful evening, saying, "The plaques came in already so we were able to show the donors in person. Mr. Fisher was able to talk to them about what their contribution means to the school. The tree is looking good so far and we're excited. We're just glad to incorporate the environment into the campus and provide more shade to students." 
The tree, which will grow alongside students, is a testament to Kim's admirable dedication to improving her school and acts as a display of the community's support of West Ranch. 
Principal Fisher concluded: "The tree has grown a couple of feet over the past couple of months and is thriving. This tree symbolizes a legacy that Kim and the donors are going to leave here at West Ranch for future students and staff to experience." 
  The Paw Print thanks the students, faculty and businesses who contributed to this campus beautification project and looks forward to witnessing the evolution of the tree for years to come.