Implementation of the COVID-19 vaccine results in Six Flags Magic Mountain becoming a vaccination site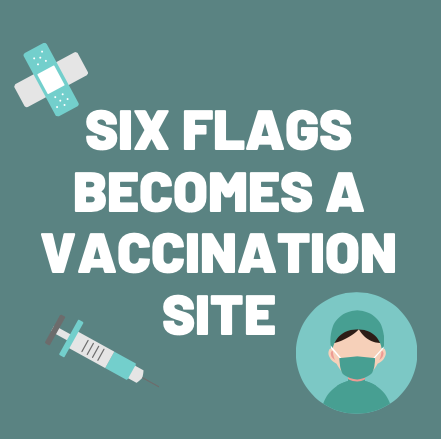 With coronavirus cases on the rise, the Los Angeles County Public Health Department opened five vaccination sites across LA County to increase vaccination efforts. One of these sites is the amusement park Six Flags Magic Mountain in Valencia. Officials announced that frontline healthcare workers and residents over the age of 65 are eligible to receive the Pfizer vaccine at this location. 
Preparations
   On Jan. 19, Six Flags Magic Mountain was specifically chosen to become one of the vaccination sites in Los Angeles County, due to its regional accessibility and its ability to handle large numbers of people.The amusement park has a vast amount of open area to bring in health care workers and residents over 65 according to the County of Los Angeles' official website. 
Getting the Vaccine
   In order for any healthcare worker and senior over 65 to receive the vaccine, they are instructed to book their appointments online and indicate their official professional status. Cars are expected to line up across the streets and snake between Hurricane Harbor and nearby parking lots. 
   However, the type of vaccine an individual will take determines which site they will be funneled into. Those who have received their first dose of the vaccine will be later notified with information on re-registering for their second. According to the LA County's official COVID-19 Vaccine Registration website , "Residents who received a vaccine at a location run by LA City Fire Dept., will receive an email and text from Carbon Health within the next two weeks with information about their second appointment. You will receive an email confirmation to book your appointment time."
   Vaccinations are being distributed from 10 a.m. to 4:30 p.m. seven days a week. In an interview with The Signal, Jerry Certonio, manager of marketing and public relations at Six Flags Magic Mountain and Hurricane Harbor, stated, "We are prepared to provide our parking lot as long as L.A. County needs in order to facilitate vaccination efforts."
   The COVID-19 pandemic created great uncertainty in Santa Clarita. However, with the help of Six Flags Magic Mountain, the LA County is extremely grateful to have officials and places to aid the fight against this pandemic. 
For more information on how to register, check out this link.
https://covid19.lacounty.gov/covid19-news/covid-19-vaccine-registration-open-for-la-county-residents-aged-65-and-older/