The Stevenson Ranch Library reopens after closure for over a year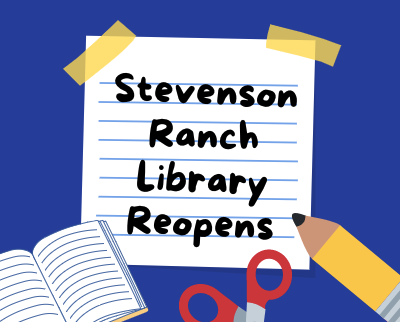 As LA County continues to make major progress in flattening the COVID-19 case curve, some indoor facilities have been cleared to re-open. Local libraries have begun to offer in-person services. Let's take a look at what our Stevenson Ranch Library has put into place regarding their reopening. 
What does this mean? 
 The library will be reopening outdoor programs with a limited number of participants. There will be further information on these activities posted on their official website and will be sent to library newsletter subscribers.
The library will continue to offer online class, virtual programs, and DIY activities online for all ages. The digital library card will continue to allow people access to movies, ebooks, etc.
They are allowed to reopen at 75 percent capacity while people follow COVID-19 safety guidelines. Even though the library has now opened its doors, it will continue offering sidewalk services for those who don't feel comfortable going inside. 
Conditions 
The library is enforcing a variety of conditions and protocols to allow for a safe reopening. They've opted to keep their sidewalk service, in which consumers call ahead and give the library notice to place their items on hold. Items include Chromebook kits, documents, or books. 
Frequent visitors are also able to receive a temporary digital library card, which can be used to access eBooks, audiobooks, magazines, movies, music and more. The LA County official website detailed that the usual protocols are being followed, meaning people are expected to wear masks and maintain six feet of distance. 
The majority of indoor functions, including in-person browsing, free Wi-Fi, pick-ups and computer uses, are now available. However, customers are limited to up to one hour on public computers. Library resources such as printing or reference materials are still available. 
Even though the library was closed for over a year, the hardworking staff are trying to give the community the best experience possible. People of all ages are finally able to return to the library that they love.