West Ranch High School counseling team hosts webinar for 2022 college admissions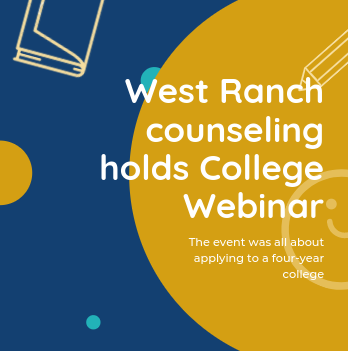 On Thursday, Aug. 13, the West Ranch counseling department hosted their annual "College Admissions Workshop for Seniors and Parents." The webinar event, led by head counselor Mrs. Reynoso, ran from 6 p.m. to 7 p.m. on YouTube live. 
   "It's important to get all of the information to the parents and students early on so that we can cover all the general questions," Mrs. Reynoso said. "Everyone's going to have more detailed questions later on, but we want everyone to have the same opportunity to get information at the start."
   Mrs. Reynoso addressed UC and CSU applications, the Common Application, letters of recommendation, transcripts, Early Action and Early Decision, financial aid and admissions testing. The webinar concluded with a Q&A session from questions that seniors sent in through a Google Form. She even gave organizational and scheduling tips for seniors to prepare their various applications they would have to send.
   Regarding the UC applications, Mrs. Reynoso discussed different deadlines and requirements, such as the standard application, personal insight questions and additional information. She also explained the Common Application and the CSU application platform.
   "I thought the information about CSU was really nice," Senior webinar attendee Eric Lee commented. "I feel like everyone just talks about UC's so I think CSU information is always helpful." 
   Addressing letters of recommendation, the counselors sent a Google Form to the seniors for those who wanted an SSR (Secondary School Report). Students applying Early Action or Early Decision, and those who had a due date of Oct. 1 or sooner, had to send the Google Form by Sept. 7 at 3 p.m.. Regular decision students' deadline is Oct. 29 at 3 p.m. 
   While Early Action and Early Decision may be easy to confuse, they are very different application processes. Early Action is the process where students apply to an earlier deadline and are also notified earlier. Early Action is non-binding, which means students do not have to attend the school if they are accepted. On the other hand, Early Decision is binding, and students may only ED one school.
   Many students may need to send transcripts to the schools to which they are applying. West Ranch uses Xello for college and senior information, and students can request transcripts, fill in brag sheets and organize their college lists through this platform. Students can access Xello through the waffle icon on their Google homepage.
   Mrs. Reynoso also addressed the topic of financial aid and scholarships, reminding students that the FAFSA (Free Application for Federal Student Aid) needs to be turned in by Oct. 1. More information on individual scholarships can be found on Xello.
   There's no doubt that all of these aspects of the college admissions process were transformed by the pandemic. When asked about the biggest change, Mrs. Reynoso explained, "It's completely changed how colleges address admission testing. On a personal side, I think it's a good thing because they're looking at the students on a whole a little bit more rather than a snapshot of who can test the best. Some schools are still hanging on, but the UCs in particular are making a big shift."
   With many changes in college admissions, the webinar became an even more important source of information for seniors headed to 4-year colleges and universities. Lee emphasized, "I think it gave me a general idea of the timeline I should make for myself because [Mrs. Reynoso] gave us a lot of new deadlines that I didn't know about."
   While many students were able to join the live webinar, other seniors may have missed the YouTube stream. "The webinar will be linked to our school website," Mrs. Reynoso added. "We also have a bunch of other links that break down the UC application as well as links to the common application website, so if students need help along the way they can access that."
   "Everyone has different goals," Senior Aikedai Anniwan explained. "The workshop included everyone's needs, including mine, so it was pretty helpful."
   Cats, look out for a webinar in the spring about College of the Canyons and community college applications, and be sure to check out the links on the school website.