West Ranch library holds a banned book week event celebrating the freedom to read
   Banned Book Week, an annual event from Sept. 26 to Oct. 2, is a recognition of books across the nation that individuals have tried to censor in libraries and schools. Reasons for banning could be foul language, topic, subject or belief system in that region. This year, the West Ranch Library held a Banned Books Week for students to recognize its significance.
   Mrs. Erickson, the school's Teacher Librarian, organized the event at West Ranch and explained the reasoning behind it. "I'm never [going to] tell you what you should or should not read, but I'm [going to] try and offer you options. A banned book just brings recognition that someone has tried to limit your information, and I want you to make your own determination. That's why I like to recognize it," she explained.
   Banned book week began in 1982 in opposition to a surge in the number of schools, bookstores and libraries banning certain books. These books ranged from children's books to extreme political philosophies. This annual event emphasizes the goal to spotlight current and past attempts to suppress books in schools and libraries, and to celebrate our ability to defy the silencing of ideas. 
   Erickson continued, "The banned books could be anything from the "Harry Potter" series because it involves witches and warlocks, to "To Kill a Mockingbird" because it involves [offensive] language. It historically has been going on for years and years and the American Library Association recognizes that as an American citizen, you have the right to read and make your own decision." 
   Freshman Naomi Kim greatly appreciates the value of the West Ranch Library. Kim explained that it's important to have a wide variety of books available to students, "they cover serious and important issues that you wouldn't find in other school curriculum books and it's important to be aware of things going on around us." 
   The American Library Association (ALA) is the oldest and largest nonprofit library organization in the world. The organization tracks attempts to ban or restrict access to books across the country.
   Just like the ALA, Mrs. Erickson strives to assure that information is available to everyone. She's always working to create new intriguing displays for students. Regardless if it's a book event or a presentation, Ms. Herrera, West Ranch's Library Media Technician, always tries to fill the library with something new and interesting when students walk in. For Banned Books Week, she created a jail-like presentation of the books that have been banned herself.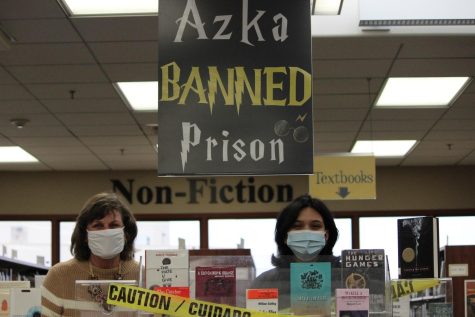 "So when [students] come in, there's a new location of something going on, and I hope that attracts [their] attention and makes [them] stop and think. Whether it's our banned book recognition or it's our Spanish heritage recognition, all of the things we do in the library are to make [students] realize there is more out there," Mrs. Erickson explained. 
   "It took me around one week to be able to come up with the display [and] pick up all the books for the banned book week display," Ms. Herrera said. 
   Banned Book Week brings public attention to the dangers of censorship by highlighting attempts across the country to ban or restrict access to books. The event not only symbolizes the attempts made to ban books,  but our individual freedom to continue to read them.
   "I think it's important for students to know that reading is important, and we should speak up and be able to have our own right to read whatever we want to read, so that's why I decided to create this display." Ms. Herrera said. She explained that it's simply to raise awareness so that students know that these books are available and that they've been prohibited in many states and schools.
   Wildcats, if you have a passion for books or love to read, make sure to swing by the library!