Teachers host students for second quarter lunch bunch
   On Dec. 2, West Ranch teachers attended Lunch Bunch with two students they had each hand-selected. Organized by ASB, the event is held at the end of every quarter to celebrate the students' hard work in school. This unique West Ranch tradition gives students and teachers a chance to interact outside the classroom.
   English teacher Mr. O'Brien explained, "We have our three watchwords: 'Relationships, rigor, relevance,' and Lunch Bunch very much hits on that first word. We are telling a student, 'I noticed you'.
   As the group enjoyed their ASB-provided meal together, teachers passed around a microphone to share a few words on why they chose their student. Some referenced their student's infectious positivity and ability to brighten up even the most exhausting of first period classes. Others spoke about their student's involvement outside of the classroom in clubs such as Academic Decathlon.
   "The one thing we don't do is look at the grades, and say, 'Who's got the best grade?' because that's something we're already recording," said Mr. O'Brien. "We normally judge students based on their grade, Lunch Bunch is every other thing that's not part of that record."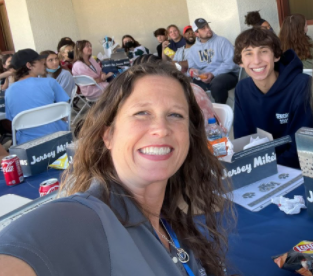 On the menu this time was Jersey Mike's, but Lunch Bunch has featured other unique foods in the past as well.
   Mrs. Brosche, a math teacher, said, "There have been some fun ones. We've had a baked potato bar, which was fun. We've had pizza, which was great as well."
  At the conclusion of the event, each student was given a certificate of recognition. For many students in attendance, this was their first time being invited to Lunch Bunch.
  "I hope students walk away from Lunch Bunch feeling recognized, proud of whatever they've put in, and seen," said Mrs. Brosche. 
   There will be two more Lunch Bunches before the end of the school year. Be sure to keep up the great work in the second semester, Wildcats!