Returning to a COVID-affected school
Schools across the country, West Ranch included, have kicked off the second semester of the year. However, with the return to in-person learning, they are facing some difficult challenges in keeping campuses safe. 
   Recently, the United States has been battling an enormous surge in COVID-19 cases, due to the highly contagious Omicron variant. 
   According to the New York Times, the surge is breaking records. On January 10 alone, the US case count was reported to be 1,433,977 cases— much higher than the case record that was previously set during a surge of the Delta variant last year.
   A notable rise in cases among students and staff has resulted in West Ranch making significant changes to its COVID-19 guidelines for the second semester. One of the most important changes has been made to the masking policy, now required to be worn both inside and outside the classroom. 
   West Ranch principal Mr. Crawford explained, "Now students and staff are to wear masks outdoors if they cannot social distance, unless they are actively eating or drinking."
   Although one of the best preventative measures against COVID-19 is being fully vaccinated and boosted, wearing a face mask offers a layer of protection from the disease. Masks block droplets that may contain the virus from reaching entry points on the wearer, such as the nose and mouth. As a result, utilizing masks has become crucial on campus, especially outdoors when people are talking in large groups. surgical or medical masks are now recommended over cloth masks, as they are more effective at preventing the spread of the Omicron variant.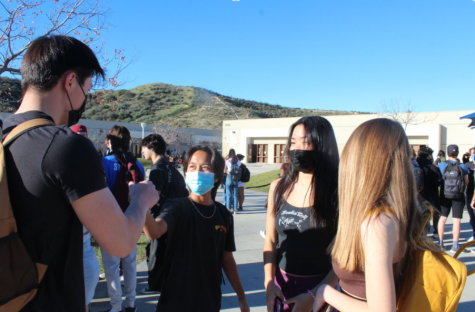 The rise in Omicron is having a ripple effect on campus activities. For example, West Ranch's athletics programs have been heavily affected by the COVID-19 outbreaks.
   Basketball was also shut down for a week in December, causing some of their tournament games to be canceled. Though the boys Varsity team has been having a phenomenal season despite the challenges, the coach still worries for the security of the rest of the season.
   I am concerned," said Coach Bryant. "I lose sleep over it. Every time my phone rings, I think, 'This is going to be bad news about COVID.' I am especially concerned as we are heading into the playoffs."
   However, the school continues to take steps in order to keep sports teams COVID-safe.
   "Stacee [Stephens-Carillo] West Ranch's Health Assistant) in our health department is doing a great job: making sure we're testing weekly, making sure kids are wearing their mask and following COVID guidelines," said Coach Bryant. "I would say [to students], 'Continue to wash your hands, wear your masks, stay away from big crowds if you can.'"