Welcome our newest counselor: Mrs. Bacon!
Counselors are a fundamental part of West Ranch, allowing the best educational opportunities to reach students through their experience in class scheduling, college planning and overall advising. With this in mind, please give a warm welcome to Mrs. Bacon, our newest counselor specializing in A-G completion and college readiness.   
The role of the A-G and UC/CSU specialty counselor was established at West Ranch this year to help the students looking for assistance in college preparation. Mrs. Bacon described that her main goal is to help "students be A-G eligible, meaning they are able to apply directly to a four-year college."'
A-G is the list of all the high school subjects that colleges like the UC system require to meet the minimum admission standards. Requirements can be satisfied through general high school coursework and passing classes with at least a "C," or by taking the related college courses and AP exams listed in each category.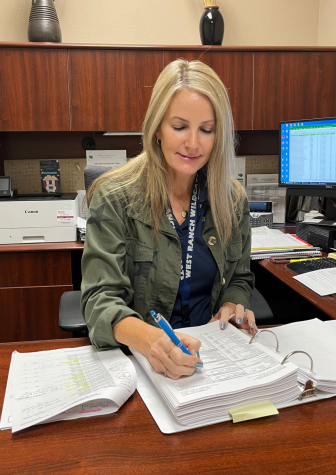 Students "can stop by and see me or email me, I am happy to meet with any students who have questions about A-G, or meeting the requirements," Mrs. Bacon explained. 
The aid that Mrs. Bacon provides as a counselor is an ideal resource for students who have begun exploring colleges and preparing to apply. 
West Ranch junior Joelle Sur plans to use this new source of help as she begins her journey into college readiness. Sur explained that her main goal is knowing the "details about the registration process, especially when going for scholarships, and learning about what is automatically sent to the colleges."  
Most of Mrs. Bacon's work for students is through an apex program, a series of online classes that are taken alongside going to school, and provide access to the requirements needed to fulfill their high school credits. With this program, she aims to help students "not just for college, but also to help support the students that need classes to graduate." 
Jegg Yoon, a sophomore at West Ranch, sees this apex program as  a great opportunity. Yoon supported the idea that learning "about  the different classes they could take at different times would help a lot with finding the most flexible schedule for students, so that they could use the leftover time to explore their passions."
Working within the Hart district for years now, Mrs. Bacon is no stranger to counseling or the West Ranch campus. 
"I've worked at many of the different high schools in counseling, the registration office and in classrooms," she explained. "I was the director of college advising in a private school for seven years, but have spent several years counseling in the district with a variety of roles, including here at West Ranch. My favorite school, of course, is West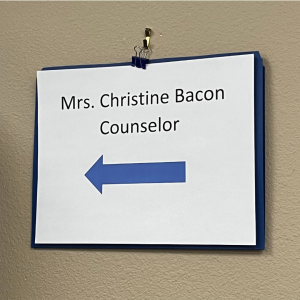 Ranch!"  
Throughout her years of experience, Mrs. Bacon had kept many fond memories. Some include seeing the students she had helped receive their graduation diploma. During her career, she has been dedicated to assisting and motivating students, and has been able to see countless students grow and reach their full potential. 
Mrs. Bacon aims to provide support as part of West Ranch's faculty and is "looking forward to being part of the team that helps students to feel success once they've completed classes, and helping as many students as I can!" 
Cats, be sure to stop by the counseling office to greet our new counselor. Besides providing resources for the student body to utilize, Mrs. Bacon is here to listen to any concerns you may have and support you as needed!