Open Library Night
On Nov. 13 2022, West Ranch students were given the opportunity to enhance their knowledge in their classes and raise fallen grades during Open Library Night. West Ranch started Open Library Night years ago in order to give students a chance to experience one-on-one tutoring sessions with teachers of all subjects.
Ms. Mapp, one of the assistant principals at West Ranch explained, "Hopefully, it will give students an opportunity to study and prepare for their final exams. [The program] will also give them an opportunity to work on current work with support and do any missing assignments."
Upon entering Open Library Night, students are able to choose from different tables, each with different teachers specializing in a variety of subjects. Behind those are empty tables where students can work independently to finish homework, study or retake tests.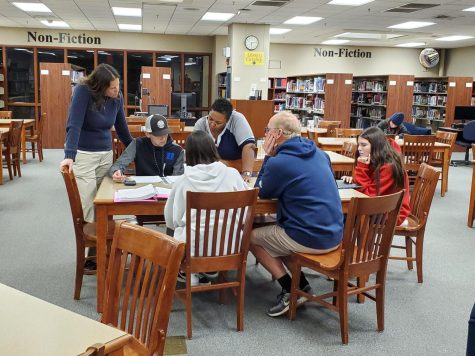 The students who have visited Open Library Night have expressed their appreciation for the event. 
Aiden Dakshina, a junior at West Ranch noted that "having a separate time alone with a teacher is great. One-on-one help is great and I really recommend it to others".
Junior Bailey Green expressed how the tutoring sessions benefited her learning. "I chose to come to Open Library because I had been struggling in my classes and I have a hard time asking questions in a classroom environment. However, in Open Library, I can ask as many questions with other students who are also getting help."
Open Library Night has already proven to be a success, with many students getting assistance they needed as well as quiet time to study. So Cats, make sure to take advantage of this opportunity!