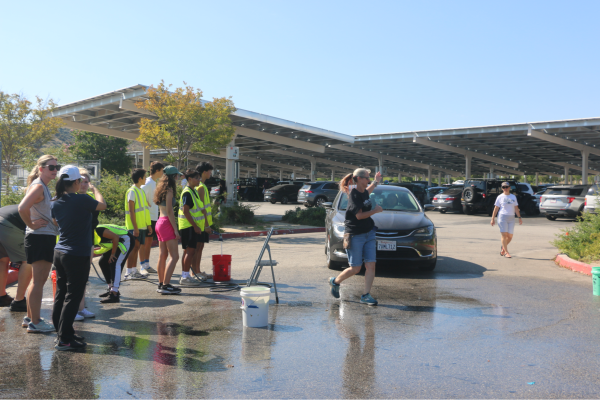 On Sept. 9, parents, teachers and friends supported the West Ranch Band program by participating in their car wash fundraiser. The event was held in the West Ranch parking lot from 9 a.m. to 12 p.m.. The campaign was hosted by Band Boosters to help finance the program for the upcoming school year.
West Ranch Band is made up of students with a passion for music. Their main focus is not only playing instruments together to create beautiful music, but also forming strong bonds among the students. Freshman band student Sophie Wu commented, "I really like the community we have. We act like a family."
The fundraiser was held at the lower parking lot, with volunteers at two stations. For each car coming to the event, the students first sprayed down the vehicle with a hose while others grabbed sponges with soap to scrub off the dirt. Then, volunteers directed the customer to the drying station, where students used rags to soak up the remaining water. To attract customers, the volunteers took the role as sign spinner and advertised near main intersections like Valencia Boulevard and The Old Road. "[Being a sign spinner] was not that bad. It was hot though. But it was fun," Wu explained.
The funds from this event will help the band to pay for needed supplies. Dr. Schueller, the current band director, further explained what the funding would be spent on: "It's a matter of repairing and refreshing our instrument inventory." He added, "Everything from instrument coaches to transportation costs, it's a very expensive program to run. The more we can alleviate the cost for students, the better off we'll be."
According to the West Ranch Band's website, the goal for the program was $15,000. While a  majority of the money was raised through an online donation drive, the combined total raised was $15,845.
  "You want to try and do things now and then, and this is definitely a new venture for us," Dr. Schueller explained. "It's a unique idea, one that the program has not done before."
Vice president of the Band's Booster Board Suzanne Adel described the success of the fundraiser, "It's been steady. We're getting a lot of traffic just from people coming in and dropping off their kids and picking them up from different sports. It's been successful." 
In addition to overseeing the event, Adel also got her car washed by students. "It hasn't been that clean in a long time. I highly recommend it," she explained with a smile. "It was a very good job."
 Overall, this fundraiser proved to be an immense success. Not only for parents and friends getting their car a makeover, but for the students and teachers who were able to support something they truly love. In the words of Dr. Schueller, "[band] becomes your life with the number of hours you put into it. It's always been something that's super special to me."