West Ranch's ASB hosted Homecoming Spirit Week to pump up Wildcats for the game and dance at the end of the week, from Sept. 5 to Sept. 8. 
   This year's homecoming theme was HoCoChella, inspired by the prominent music festival Coachella. Accordingly, the spirit days resembled an aspect of the music, artists and all-around good vibe of the actual event.
   On Tuesday, the week kicked off with students wearing their favorite band or concert merchandise. "I liked seeing people dress up," Esi Otoo, a member of West Ranch's 2023 homecoming court, mentioned. "I liked the concert or artist merch day because it was fun seeing what kind of music people liked." During brunch, students surrounded the ASB office in their music gear to watch the homecoming court participate in a game where they finished the lyrics of popular songs.
   Wednesday's activity gave West Ranch the opportunity to further express their musical tastes. Instead of representing one artist or band through their merchandise, they were able to dress up as an entire genre. Throughout the day, students and staff could be seen rocking outfits based on music from different decades and genres.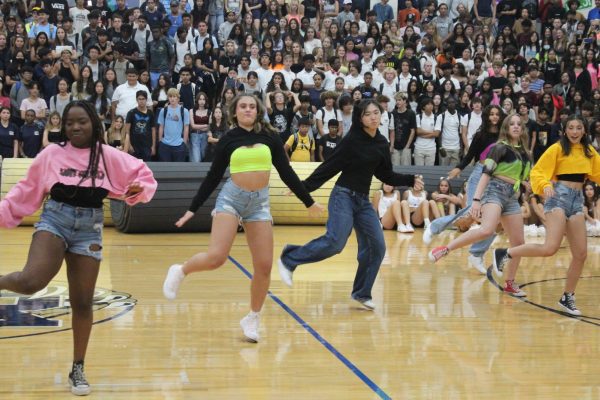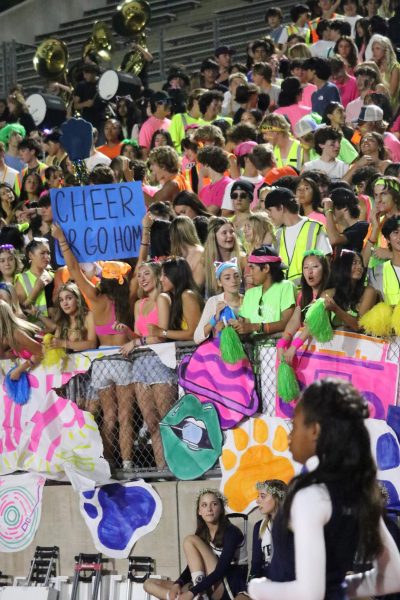 "My favorite [spirit day was] probably Wednesday, which was 'Dress as your favorite music genre,'" ASB advisor Mrs. Priske recalled.  "And I know that not a ton of people participated in that because it's kind of a hard one, but Mr. Cotti and I dressed up as Ren DMC, so that was kind of fun. Mrs. Brosche dressed up as the Elton John era and there [were] lots of '80s and country students around."
   Students were encouraged to wear neon colors to the rally and football game on Thursday, preparing students for the activities to come. Later that day, attendees of the football game received bracelets in preparation for the next day's spirit event.
   On Friday morning, students who attended the homecoming football game had the opportunity to enjoy free donuts from ASB by showing them the bracelet they had received the day prior. In addition to this special treat, students were able to dress down in their pajamas before they dressed up for homecoming at 7:30 p.m. that night. 
   Junior and ASB member Sarah Reid summed up the importance of spirit weeks: "Make sure to dress up for [future] spirit weeks! It helps get everyone's spirits up for anything that's coming up that week, especially for football games and the homecoming dance."