West Ranch's girls varsity tennis finishes second in the foothill league after a win against Castaic
The last game of the varsity girls tennis season took place on Oct. 21, marking the finish of a great season. West Ranch played an exhilarating set match against Castaic, which concluded with a victorious finale. West Ranch's girls varsity tennis had a remarkable season, placing second in the league with only two losses.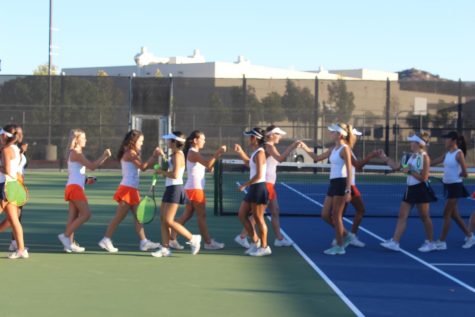 All team members played a crucial role in the triumph and spirit of the team. In both singles and doubles, all 11 players were responsible for every set won and every step closer to the team's success. 
West Ranch senior and varsity tennis captain Abigail Pak emphasizes the familial environment within the group, explaining that "As the team captain, I always put out the fact that I'm there for any of the members of my team. After playing for four seasons at West Ranch, I felt like I had what it took to be there to support any of the members."
The emphasis on support within the team was seen throughout each set, as each player was met with encouragement and motivation from one another. Alongside Pak, Jackie Ressler was also a big source of critique, providing key guidance and emphasis on specific mindsets players should utilize. 
Playing a pivotal role in the team's victory, coach Ressler stressed the importance of a specific ethic: teamwork. "I always tell the kids that a team should move together. Whether it is during warmups, or cheering for each other, they're all a part of a team and all are playing for a common goal," Coach Ressler explained as the source of the welcoming environment within the team. "I know teamwork in a sport like tennis is hard to teach and grasp, but the environment a player is in is the most important for their performance."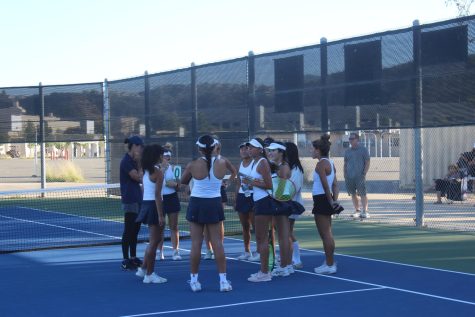 Coach Ressler, Bak, and the athletes' efforts were not in vain and proved to be instrumental in their overall success. With only two losses in the season, an impressive win streak, and an overall high placement in the league, the season ended with no regret.
The athletes teared up as the last moments of their final game arrived. Seniors were thankful for the memories they made through the sport and West Ranch's tennis program. Congrats to the tennis team, and remember, once a Wildcat, always a Wildcat!