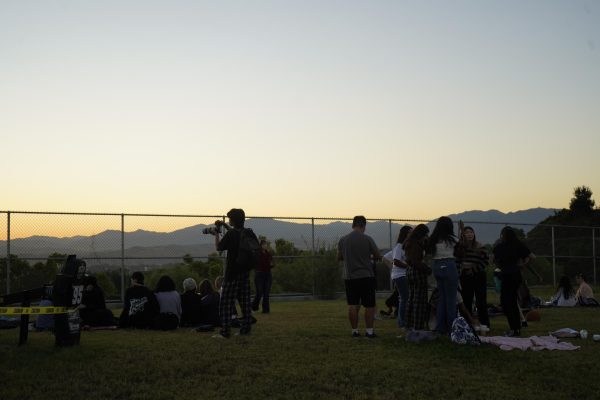 Senior Sunrise on Aug. 17 gave the class of 2024 an exciting start to their final year of high school. Seniors began gathering on the grass beside the football field at five in the morning, enjoying doughnuts and a clear view of the early morning sky.
   The event officially started at 5:45 a.m., much earlier than the usual school start time. Many seniors drove themselves and their friends: "I woke up at five, and I went and got coffee with my friend Frankie and we had Starbucks together" Senior Jadyn Tunnell explained. Others started the fun before heading to school. "All of my friends and I had a sleepover the night before so we all drove over together," Cassidy Clark recalled.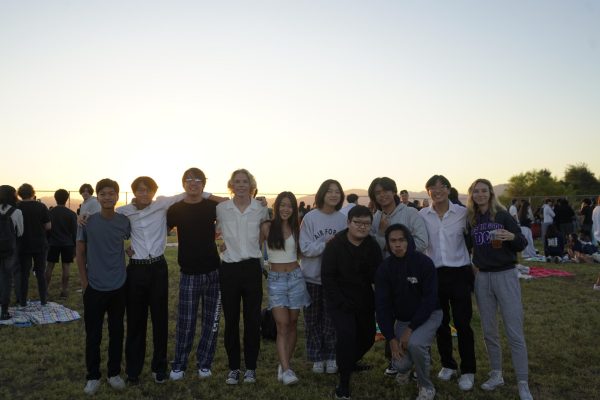 As students arrived, they settled onto the grass field. Tunnell reminisced about the memories made: "I liked taking pictures with everyone and commemorating the day. All my friends were on a picnic blanket together and we were mostly just talking about random stuff, mostly about how tired we were." The sunrise gave many students the opportunity to connect with other students who were previously unaware of each other. "I liked getting to meet seniors I haven't seen before. There were a bunch of people that I didn't even know went to this school," she continued.
   The event was a success, with countless seniors showing up to wait for the sunrise. During this time, they expressed their appreciation for the celebrations of their last year of high school with friends. "I love the concept of Senior Sunrise because it represents the beginning of the year; the sun is rising. It makes sense that the beginning of the year has a sunrise, [and] the ending has a sunset," Clark shared.
   At approximately six in the morning, the rising sun painted the hills and field orange. The speakers played "mirrorball" by Taylor Swift. After students wrapped up and headed off the field, some reflected on their thoughts for the beginning of senior year. "It doesn't really feel like it's the end [of high school] yet, so I'm just trying to make the most of every moment," Alyssa Nott expressed.
   Thinking about the last year of high school, senior and ASB E-Board President, Esi Otoo, discussed her excitement for the year ahead: "I'm excited for all my last dances, my last football games, my last basketball games and planning all the upcoming senior events."
   By the time the sun had fully risen, seniors walked back to the parking lot and loaded into their cars. Some went to breakfast after the event, extending the moment. "I went to Noah's Bagels with my friends after Senior Sunrise," senior Jeremiah Chun recalled. "I think it was a memorable moment with my friends I really enjoyed and can look back on."
   Seniors, remember to savor every moment of your last year in high school!