The life of a West Ranch alumni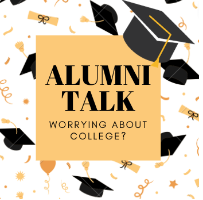 With the second semester quickly passing by, many seniors are mentally preparing themselves for their college journey. Oftentimes the process of searching and applying for college can be overwhelming. Although moving to a new city may give you anxiety, life after graduation isn't as scary as it might seem. West Ranch alumni have already gone through these fears, and a few of them offer helpful advice.
   Matthew Speranza, better known as Emjay, is an alumni from the class of 2021. He shares that moving onto adult life "can be very shocking yet exciting. Adult life gives you so much more freedom than you ever had in high school." 
   Personal life will also come into consideration as you reflect on your past. "The biggest thing I learned was that people are complex. High school is definitely the time for you to decide the type of people you want in your life, and the type you can't trust," Speranza warned. 
   High school is a time to learn valuable life lessons about yourself and others, but according to Speranza, you shouldn't overthink it. "[I've] met many friends in high school that I miss because they've moved onto college too. But I also realized that drama and the way others think about you doesn't really matter in the grand scheme of things."
   The future seems to hold a field of opportunities, but as for the students currently attending West Ranch, Speranza suggested students "work smarter, not harder. You don't need to be a straight A student going to a 4 year Ivy League to be successful."
   Speranza is now attending California State University Long Beach, where he continues to learn and grow with plans to pursue a creative major. 
   Harley Erickson, an alumni who graduated from West Ranch in 2021, found graduation to be a liberating experience. "I felt as though leaving college taught me as much about life as going through high school has. When I was out in the real world by myself, I learned about what it's actually like to be an adult." 
   "Transitioning outside is not as smooth as people think it is," she affirmed. However, after Erickson familiarized herself with the outside world she has since claimed that, "I've become more aware of how small Santa Clarita Valley is, and how much life in the valley has trapped me for the longest time."
   Despite her newly found freedom, Erickson still acknowledged the social benefits a close-knit high school community provides. "I miss participating in marching band and interacting with my friends at lunch," she reminisced. "Now that we're moving into college we are all off doing our own things and only see each other every couple of months."
   Erickson is now studying around the country with plans to major in psychology, traveling to places like New York and Hawaii.
   "After graduating, it's possible that you and your peers drift apart, and you lose the common space you had in high school," explained Parker Lyman, a West Ranch alumni from the class of 2020. "You'll be able to stay in contact with many friends but finding new common spaces is even more important than it was before."
   Moving on to higher education can also help one feel grateful for their high school years. "If your daily school life seems boring or like a chore, you may come to look back at it fondly in the future, since at the time you misunderstood the value of those experiences." 
   Furthermore, there are mistakes that current students at West Ranch are making, according to Lyman. He claimed that "your education never stops. Treating college or high school as a time where you are just waiting for your diploma is what a lot of people do. Although you'll get what you want, it's better to seek out new experiences and find out what you enjoy doing." He reasoned that you can still use college time to build up your passions as you now have the freedom to choose whichever classes you'd like to take. "Your college classroom is likely to be full of people who are in different parts of their lives. Learning from their experiences is often fulfilling."
   Lyman has joined College of the Canyons, where he will soon transfer into a different college with a computer science major.
  Moving out to college, or out of high school in general, will make you realize that the world is much larger than it seems. Our relationships, careers and personal goals will continue to expand as time moves forwards, but it will always be helpful to look back at the values we learned during high school, and the people that we left behind.
   "A majority of difficulties in life can be overcome by spending time, so don't worry about what happens today," Lyman concluded.