Boba places within a 5-mile radius of West Ranch Review
Boba, the trendy beverage with black tapioca pearls, has been all the rage and is quickly becoming a favorite among many students. However, potential customers may wonder about the characteristics of each local boba place and where the best boba drinks are located. The Paw Print visited five places within a five mile radius from West Ranch High School to identify quality boba options for Wildcats. 
Cozy Tea and Juice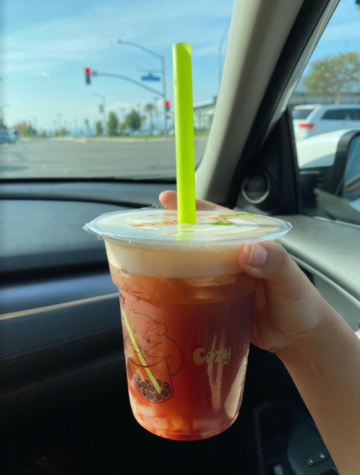 Cozy Tea and Juice is one of the lesser-known boba places in the Santa Clarita Valley. Only ten minutes away from school, and located near Jasmine Thai and Mr. Sushi, the store offers its own unique take on a variety of beverages. 
"My favorite boba place is Cozy Tea & Juice, "West Ranch sophomore Alyssa Nott said. "Cozy Tea has a large selection of drinks, like milk teas, fruit teas, and smoothies." 
The Paw Print tried the Strawberry Black Tea with lychee jelly and the Brown Sugar Milk Tea with boba. 
The Strawberry Black Tea had a light strawberry flavor and a strong herbal aftertaste. It was not as sweet compared to others so adjusting the sweetness may not be necessary. The lychee jelly add-on also provided a firm jelly-like consistency and overall, the drink offered a true tea flavor with a muted fruity taste.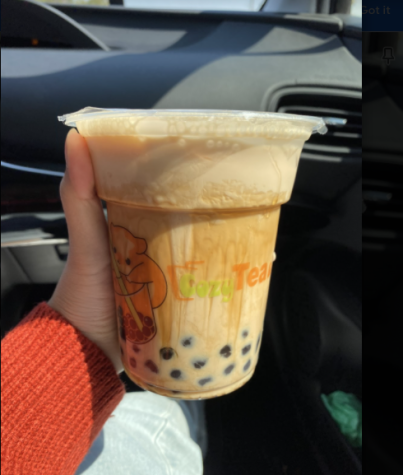 Hitting number one on their most popular drinks list, the Brown Sugar Milk Tea was exactly as sweet as it sounds. The Brown Sugar Milk Tea was defaulted to 100% sweetness, which may be too sweet for some. Some people may prefer this drink at a lower sugar level, but otherwise, the beverage was enjoyable. It had a high-quality milk tea taste, with a sugary, almost caramel-like twist.
Cozy Tea and Juice had soft tapioca pearls, with a sweet syrup that complemented the drink well. 
Ding Tea
Ding Tea, with its optimal location next to many restaurants and the Stevenson Ranch Library, is a well-liked boba place in SCV. 
Jessica Kwon, a sophomore at West Ranch, shared that Ding Tea is the "perfect spot to get something to drink to study with others."
The Paw Print tried the Peach Black Tea with golden boba and the Mango Slush with rainbow jelly.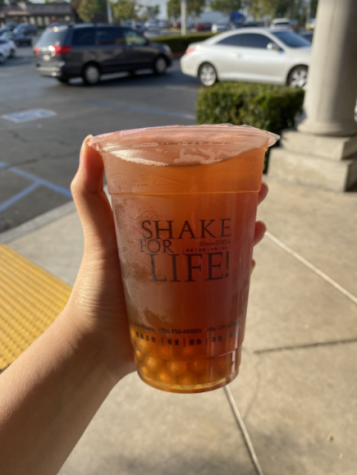 The Peach Black Tea was, overall, a very safe option for those who are fans of fruit  teas. It was almost closer to a fruit juice than a tea, but the aftertaste was definitely herbal, like most teas. A comparison could be made to Arizona or Snapple fruit teas. Overall, the drink is a solid choice. 
The tapioca pearls had a chewy texture and sweet taste. Ding Tea offers golden boba and crystal boba, which both look different from the traditional black tapioca. The golden boba is considered their regular boba, and it has the same taste as black boba despite the color difference. The crystal boba is more jelly-like, with a clear color and sweet taste.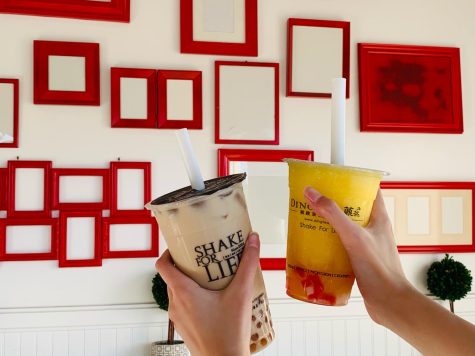 One of Ding Tea's best-selling drinks and the location's many non caffeinated drinks, the Mango Slush has a blend of both a smooth and textured, thick consistency. The fruity drink has a vibrant flavor and a mildly sweet aftertaste, and was paired well with the soft rainbow jelly topping. Along with the rainbow jelly and the golden and crystal boba, there are other various add-ons for people to complement their drinks.
Gong Cha
Gong Cha is another well-known chain for boba beverages and teas, located near Little Caesars and Umaichi Ramen on Bouquet Canyon Road. It is a bit further from West Ranch, but still offers a wide variety of options for customers.
Despite the longer drive, "Gong Cha is located in a really nice area where there are a lot of things to do," West Ranch senior Aaron Salvador said. "They also have a lot of different choices of drinks and customizations too."
The Paw Print decided to try the Passionfruit Green Tea and Marble Mango Milk Tea with boba.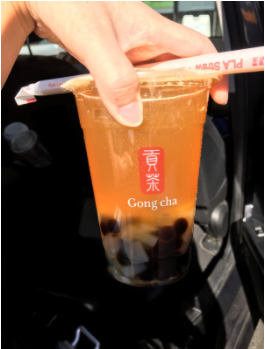 The Passionfruit Green Tea at Gong Cha is a great example of fruit tea. Customization of 100% sweetness and 50% ice made the drink perfectly sweet and not cloying. The green tea's flavor was muted, and the passion fruit notes were strong, but not artificial. The boba topping in the tea was on the firmer side of the spectrum, yet still very pleasant to eat. 
This drink came with lychee jelly add-ons as well, and the soft fruit surprisingly paired well with the boba's chewy texture and the tropical theme of the drink. Overall, this was a good experience, and Gong Cha lived up to its fame as a major chain.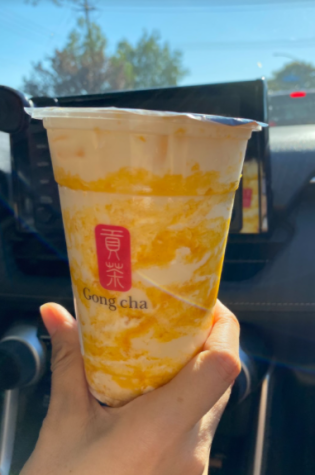 Gong Cha's Marble Mango Milk Tea was overall a delightful drink from the marble series. With default sweetness and ice percentages, the beverage was a mix of milky flavors and herbal notes at the end, with a fresh mango taste throughout. The combination, although unique at first, was tasty and the flavors all worked well together. However, the milk flavor was stronger than the typical watered-down milk teas. The tapioca pearls were good quality and worked well with this particular drink.
It's Boba Time
It's Boba Time is a favorite here among the West Ranch community, and is accessible with its short distance from the school. It is located near Popeyes and Pizza Hut, making it a perfect drink after a hearty meal. 
The Paw Print tried the Grapefruit Tea and Frosty Milk with honey boba topping.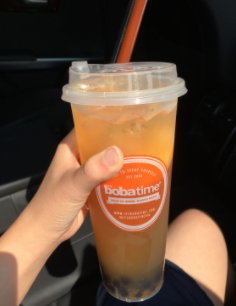 The Grapefruit Tea is a very aesthetically pleasing drink. However, it was slightly bitter compared to its sweeter counterparts. The citrus peel scent felt a bit artificial for the otherwise natural-looking drink. The Grapefruit Tea is not the only fruit beverage It's Boba Time has to offer. Their menu boasts a large variety of fruity slushes, milk teas, smoothies, and other sweet drinks one can choose from, and the majority of these are delicious. 
It's Boba Time also offers a variety of toppings customers can choose from. Toppings range from different types of jellies, cheese foam, aloe vera, egg pudding and the classic boba.
Adrian Miguel, a It's Boba Time employee, shared that one of the things that makes the place special is that "you can put boba in anything and your first scoop of boba is free."
The texture of the tapioca pearls was soft and chewy, with just the right amount of sweetness. This establishment is highly recommended as it is a local favorite and has many wonderful drinks aside from the Grapefruit Tea.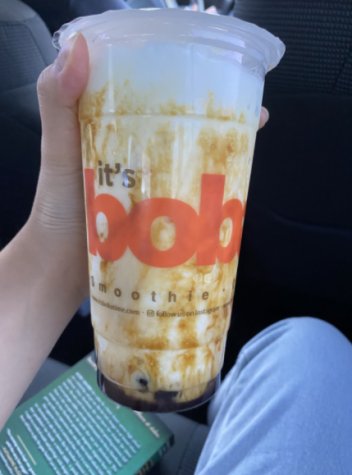 The Boba Frosty Milk quickly exceeded worries that the drink would not be sweet enough and have an overpowering milk taste. The beverage was high-quality, delicious and definitely sugary. Some customers may find it a little too sweet. Customers can order a smaller size or ask for a sugar modification if they find the sugar level to be overpowering. The texture of the frosty milk beverage was similar to a milkshake that was not too thick and heavy.
The tapioca pearls added a deeper taste to the drink as well, as It's Boba Time is almost unrivaled when it comes to boba quality. The boba had the perfect chewy texture, and retained the texture in the fridge for several hours. 
Teacision
Teacision is another hidden gem located near West Ranch. Its close proximity to Sam's Flaming Grill and Domino's Pizza makes it a great option for Wildcat students. It allows customers to mix and choose flavors from a wide variety of menu options. 
Reanna Edakkara, a West Ranch senior and Teacision employee, said, "My favorite thing about working at Teacision is how much fun I get to have with my co-workers while we are making drinks for customers. It is also actually really fun to experiment with different flavors and recommend them to our customers."
The Paw Print tried the Strawberry Black Tea with lychee jelly and Rose Vanilla Chrysanthemum Milk Tea with honey boba.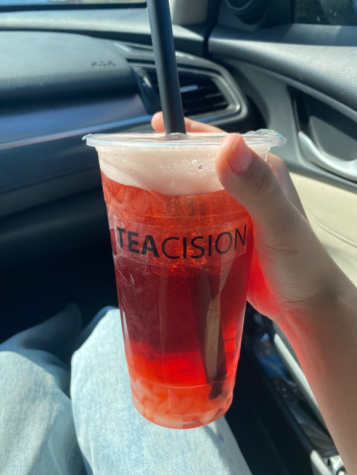 The Strawberry Black Tea offered a strong flavor while not leaving a herbal aftertaste. It is recommended to adjust the sugar level as some may find the drink to  be a little too sweet. To pair with each drink, Teacision offers one choice of topping with no extra charge. The lychee jelly had the perfect jelly-like consistency, complimenting the drink very well.
Teacision's Rose Vanilla Chrysanthemum Milk Tea, an employee favorite, had a milky, smooth texture with a burst of freshness and a flavor of gentle vanilla bean and white chocolate. This drink was paired with the location's honey boba, which provides a balanced amount of sweetness and softness. This drink is a great option for tea lovers and non-tea lovers alike.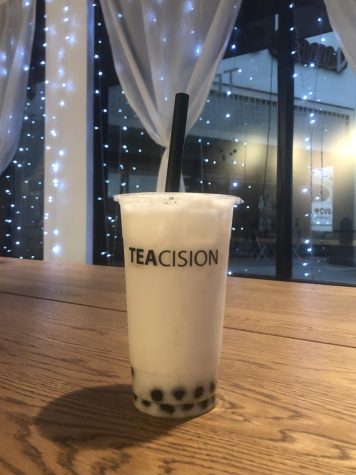 The menu is very customizable, with options of various flavors, numerous add-ons, caffeinated and non caffeinated options and reasonable sizing that make their beverages a delight to consume. 
"I think Teacision is special from other places because of our amazing menu," Edakarra said. "We have something for everyone. It's always cool to see people be creative and make up their own drinks by choosing their own flavors and asking us to put it in a drink for them."
Amongst all these boba places, students have a wide variety of drinks to choose from. Each boba place has its own spin on the classic drink with an array of toppings for customers to customize their drinks. From the large selections of boba shops in the Santa Clarita Valley, one of these locations may become your new go-to after school spot.