CSSSA (California State Summer School of the Arts)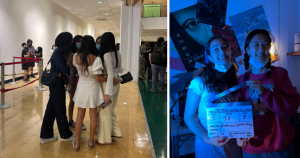 After an entire year online in 2021, CSSSA welcomes students back to the California Institute of the Arts campus during the summer of 2022. 
     CSSSA, short for California State Summer School of the Arts, is a rigorous one-month program designed for high school students to develop their visual and performing arts abilities for the professional world.

     Although the camp is hosted on the CalArts campus and students gain access to the facilities, the program itself is not associated with the school. Established in 1987, the California state-funded institution accepts around 500 students a year with an admission rate of 33%, paralleling that of CalArts'. Admitted students are designated "California Arts Scholars" — a title recognized throughout the state — as well as being awarded a Governor's Medallion, the highest arts award in California for students. The selected student body shows high socioeconomic diversity, and the program invites people from out-of-state and internationally. Notable alumni who had once attended and been deemed California Arts Scholars include world-famous actor Zac Efron, "Coco" screenwriter Adrian Molina, "Adventure Time" screenwriter Pendleton Ward, singer Phoebe Bridgers and more.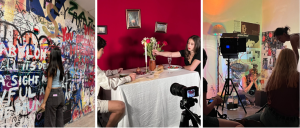 West Ranch AP Art teacher and strong advocate for the program, Mrs. Rush, shared her positive view of the camp by stating, "CSSSA is a great program, and it's a long running program. Students that go there love it. It is super immersive because you are in classes with art kids who have similar interests as you, and they are all interested in making stuff. Students come back with really great work. I've seen a direct impact on their work."
     CSSSA is a hands-on program, meaning that students live on campus for the entirety of the session. The tuition includes a dorm shared with two or three people. The dorm halls are separated by gender, with accommodations for different gender-identifying individuals. For the safety and security of students, resident assistants are assigned to each hall to enforce curfew and assist each camper with their needs. 
     Throughout the week, students are allowed to walk out of the campus and go to the Valencia Marketplace, which is just down the street. There, many students tend to buy lunch, snacks and art supplies. As a security measure, everyone must be back on campus by 8:00 p.m.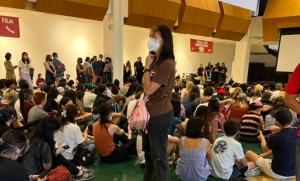 Although branded food is available at the Valencia Marketplace, the cafeteria in CalArts is just as fulfilling and inclusive. Although the main courses typically consist of chicken and beef, there are always vegan options available. The cafeteria provides an opportunity for students from different departments to interact between and after classes.
     The health of students is of utmost priority, which is shown in the several amenities provided throughout the four week program. On top of the RA system in the dorms, students have access to a campus safety number and nurse's office, which keeps account of everyone's medical conditions and consistently makes sure students come to the nurse to fulfill their health requirements.  
     The summer intensive offers a number of artistic concentrations: animation, creative writing, dance, filmmaking, music, theater arts and visual arts. Each department is headed by industry professionals who provide the young artists with the aesthetic and practical skills necessary to have a successful career in their field of choice.
     Each department is led by industry professionals who know the ins and outs of the business and creative sides of their field. In addition to taking interactive classes in their respective focuses, each department is visited by guests who are well-respected in that industry. 

     Yezy Suh, San Diego High School student and recent CSSSA film alumni said, "My favorite visiting artist was Athena Lawton, a costume designer, because before she came to CSSSA, I didn't know much about wardrobe or costume design in film. When she came, she brought two racks full of clothes that we were able to make costumes with in small groups. It was interesting to see all of the creative stories we were able to create out of these costumes. We were also able to keep all the clothes that she brought at the end."

     Department projects often overlap. For example, the film department frequently collaborates with the theater department for actors and the music department for soundtracks. Each department has a showcase every week to show the entire camp what they've been working on.
     CSSSA has a lasting impact on students long after they leave the camp. "I feel like they have a lot more confidence in their work and I think the quality of their work is better," Mrs. Rush expressed. "I have seen students go there over the summer and take AP Art the following year, and I feel like their work is more developed, their concepts are more developed and they are more into exploring and trying different things."
    In addition to developing their personal creativity, students make lifelong connections, gaining access to mentors and future collaborators.
     West Ranch senior and CSSSA 2021 alumnus Siddharth Sudan said, "I have made lifelong friends that I am still in touch with to this day. CSSSA greatly impacted my artistry. I started thinking of my films in a broader scope, and I realized that my films can change the world."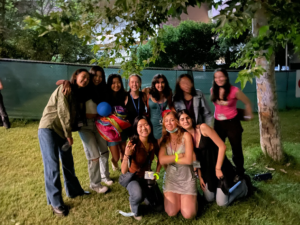 CSSSA provides for an incredibly unique environment, where artists from all different parts of the world have the opportunity to share their interests with a diverse group of like-minded people. For a lot of young artists, CSSSA is a place where their individuality is embraced and encouraged. Even after its 36th year at CalArts, CSSSA's prestige and tradition has continued to live on, and will remain a remarkable accomplishment for the young artists who attend and graduate successfully.